Scientifica has provided two SliceScope Pro 1000 systems for the UPMC-ENS Neurophysiology Lectures in Paris until the 6th October. Find out more: http://www.scientifica.uk.com/...
×
Thank you
Your quote request has been received and we will be in touch shortly.
Scientifica SliceScope Pro 6000
A full electrophysiology system with a static microscope that enables in vitro and in vivo studies, including advanced imaging such as two-photon and confocal. The system consists of a SliceScope, motorised movable base plate and two PatchStar micromanipulators.
Upgradeable
The fixed microscope makes this system ideal for multiphoton or confocal imaging, maintaining optimum laser alignment. If you don't require these options yet then upgrade as your experiments develop.
Control options
Control the focus, condenser, motorised top plate and micromanipulators from any of our remote control options. Alternatively use Scientifica's LinLab software, developed specifically to control all of our motorised components.
Research Papers
Briand, L., Deutschmann, A., Ellis, A., & Fosnocht, A. (2016). Disrupting GluA2 phosphorylation potentiates reinstatement of cocaine seeking. Neuropharmacology, 111, 231-241. http://dx.doi.org/10.1016/j.ne...
Clarke, S., Longtin, A., & Maler, L. (2015). Contrast coding in the electrosensory system: parallels with visual computation. Nature Reviews Neuroscience, 16(12), 733-744. http://dx.doi.org/10.1038/nrn4...
Ferreira, A., Yousuf, H., Dalton, S., & Sheets, P. (2015). Highly differentiated cellular and circuit properties of infralimbic pyramidal neurons projecting to the periaqueductal gray and amygdala. Frontiers In Cellular Neuroscience, 9. http://dx.doi.org/10.3389/fnce...
Giber, K., Diana, M., M Plattner, V., Dugué, G., Bokor, H., & Rousseau, C. et al. (2015). A subcortical inhibitory signal for behavioral arrest in the thalamus. Nature Neuroscience, 18(4), 562-568. http://dx.doi.org/10.1038/nn.3...
Nath, A., & Schwartz, G. (2016). Cardinal Orientation Selectivity Is Represented by Two Distinct Ganglion Cell Types in Mouse Retina. Journal Of Neuroscience, 36(11), 3208-3221. http://dx.doi.org/10.1523/jneu...
Tigaret, C., Olivo, V., Sadowski, J., Ashby, M., & Mellor, J. (2016). Coordinated activation of distinct Ca2+ sources and metabotropic glutamate receptors encodes Hebbian synaptic plasticity. Nature Communications, 7, 10289. http://dx.doi.org/10.1038/ncom...
Vardi, R., Goldental, A., Sardi, S., Sheinin, A., & Kanter, I. (2016). Simultaneous multi-patch-clamp and extracellular-array recordings: Single neuron reflects network activity. Scientific Reports, 6(1). http://dx.doi.org/10.1038/srep...
Worldwide Presence
Scientifica's equipment is used in more than 50 countries worldwide. Some of our customers include; California Institute of Technology, University of Oxford, Stanford University, University of Cambridge, Massachusetts Institute of Technology, Harvard University, Princeton University, Imperial College London, University of Chicago, Johns Hopkins University, Yale University and over 700 more research institutions.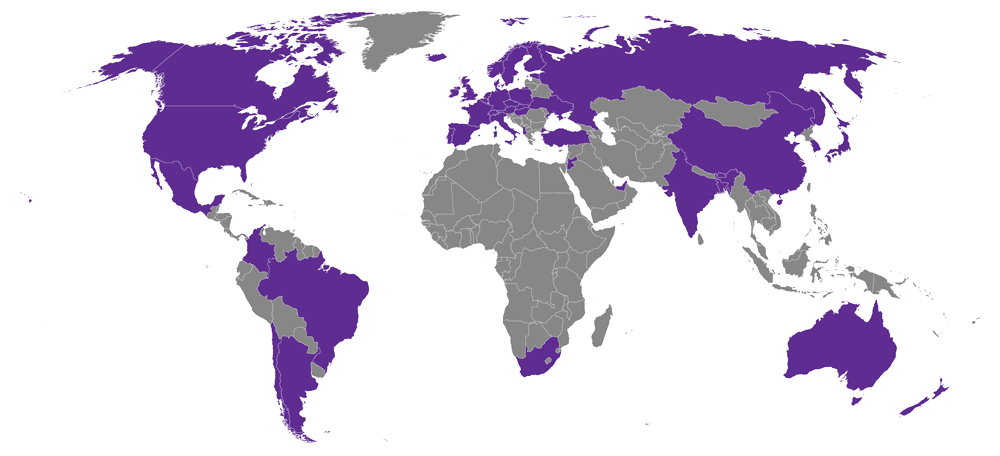 2 Year Warranty
Scientifica offer a two-year warranty with all Scientifca manufactured goods and a one-year warranty for third party supplied goods. Giving you peace of mind when purchasing your Scientifica equipment.
Scientifica Exchange Programme
Scientifica Exchange gives you a convenient method for swapping your faulty equipment over for working instruments quickly, to keep you working even if something goes wrong.
In the event that a Scientifica product needs repairing or servicing then the faulty equipment may be exchanged for the same type of equipment from Scientifica's service stock.
To ensure the service is fast and cost effective we will ship you the replacement part as soon as we can. Read more about the exchange programme here.