The HyperScope multiphoton imaging system now has advanced imaging capabilities; the introduction of an extended wavelength lens set means you can image deeper and through thin scattering layers in in vivo samples. Learn more here.
Motorised Objective Changer (MOC)
The MOC can change smoothly between two objectives and display within LinLab which objective is in position. The user has full control over the speed of objective exchange.
The intelligent motion allows your objectives to be placed safely into your chamber. When used with the SliceScope motorised microscope, it also retains parfocality and parcentrality, so you can switch lenses and keep your sample perfectly aligned and in focus. Focus positions can be stored using software or hardware memory positions, making repeated positioning easier.
Compatible with the Scientifica SliceScope, MDU (Multiphoton Detection Unit) and LASU (Laser Applied Stimulation and Uncaging) System.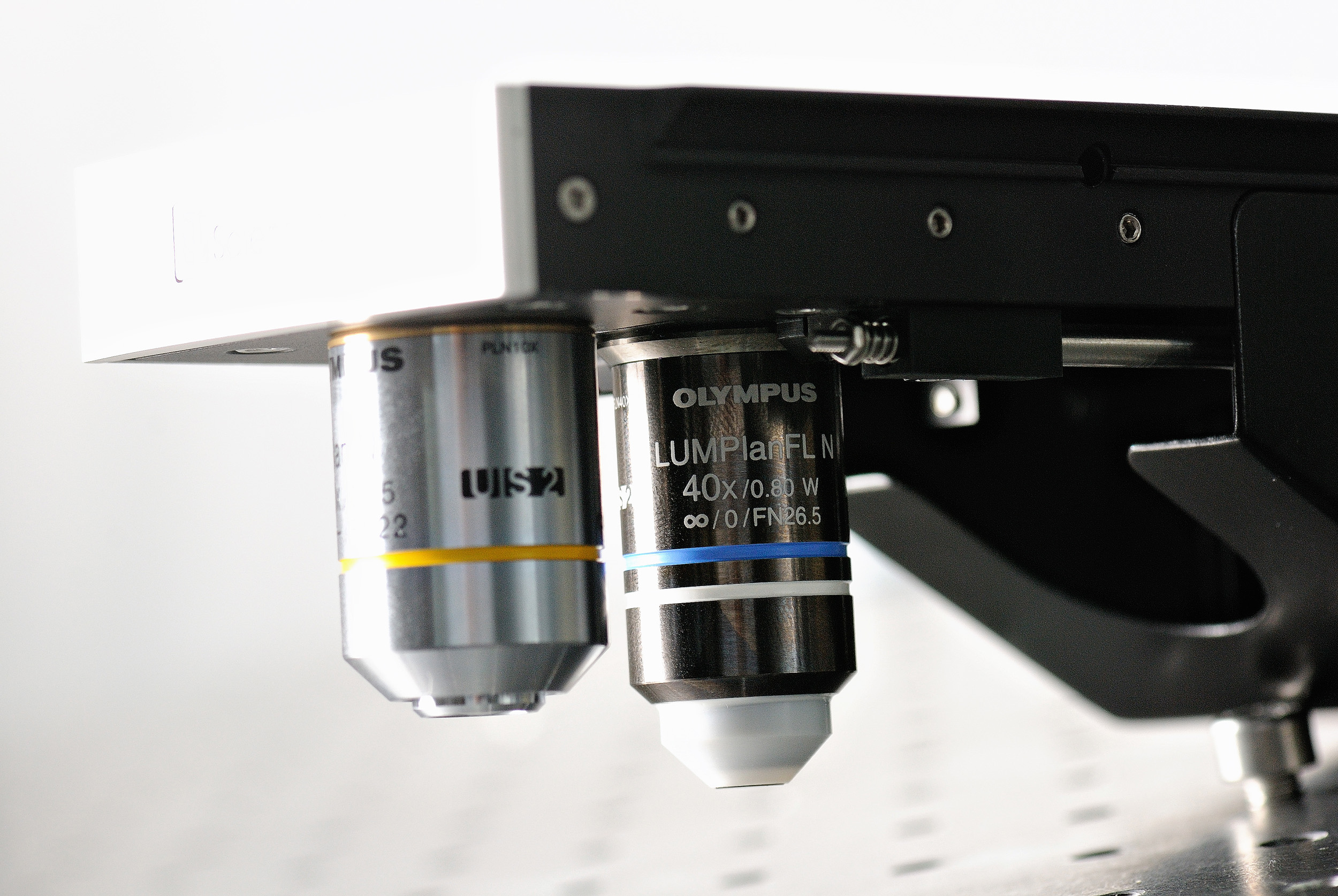 Smooth switching of objectives
The MOC ensures a smooth transition between two objectives.
Objective position display
Which objective is in position is clearly displayed in LinLab.
Keep your sample in focus
The MOC retains parfocality and parcentrality, so your sample stays aligned and in focus even after objectives have been switched.
Full control
The user has full control over the speed of objective exchange.
Compatible with all contrast techniques
Including Differential Interference Contrast (DIC), Dodt Gradient Contrast, Oblique contrast and Phase contrast.
Suitable objectives

Suitable objectives

One low magnification and one high magnification RMS threaded objective
Maximum length of objectives

Maximum length of objectives

45 mm
Maximum diameter of objectives (barrel)

Maximum diameter of objectives (barrel)

25 mm
Maximum diameter of objectives (adjustment collar)

Maximum diameter of objectives (adjustment collar)

30 mm