Our Vision
Our vision is to be the world's most trusted provider of advanced electrophysiology and multiphoton imaging systems, enabling significant scientific discovery within the neuroscience research community.
To do this we need a great team of knowledgeable, skilled and passionate people. We call this our Scientifica DNA. The Scientifica DNA has been created by our people. We asked them what Scientifica meant to them, and from the responses we received, we were able to pull together our Core Values for our DNA. These reflect what we are, how we do things and where we want to be.
Our Values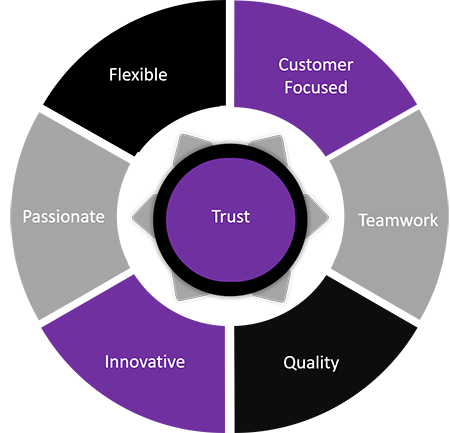 Trust
We are honest, candid and direct

We openly acknowledge our mistakes and seek to learn from them

We are accountable for everything we do

We treat each other with respect and dignity

We can rely on everyone in the team, everyone can rely on us

We will do the right thing for Scientifica
Customer Focused
We value all our customers - external and internal

We create an environment where we put our customers first

We build open and honest relationships

We make time to help our customers throughout their journey

We aim to understand what our customers need

We listen to our customers and make things better as a result
Teamwork
We do what is best for Scientifica rather than best for ourselves or our group

We proactively work across teams, sharing information and knowledge

We make time to help and support each other

We embrace and champion the 'one team' approach
Quality
We strive to 'get it right first time'

We are reflective and we learn from our mistakes

We will achieve the best value for money and best for purpose

We set the highest standards for our products, processes and people

We seek to continually make things better
Innovative
We challenge ourselves to come up with new thinking, approaches and ideas

We take smart risks

We embrace and drive change

We identify and overcome obstacles

We actively pursue individual and business growth
Passionate
We strive to be the best we can

We inspire our teams and each other

We inspire our customers

We really care about what we do and why we do it

We are inspired by our customers and partners

We celebrate success - individually and as a team
Flexible
We adjust ourselves to suit the situation

We are open to new and different ways of working

We are optimistic, can-do and solution focused

We will adapt our opinions and ideas to do the right thing

We encourage and support each other every day

We easily adapt to challenges and changes
Moving from academia to industry
We are proud of what we do, and what we enable our customers to achieve with our products. Many of our team have come from the academic environment so know exactly what our customers want. You can read their stories below.
Dr. Kelly Sakaki - Systems Engineer