Scientifica PatchStar Micromanipulator
The perfect electrophysiology micromanipulator – from single channels to in vivo field recordings.
The globally recognised PatchStar micromanipulator is perfect for electrophysiological recordings. The stable design and ultra-quiet electronics mean you can perform long-term patch clamp experiments and record even the smallest signals. The PatchStar's compact footprint and incredible versatility means it can be configured to fit around any sample, at any angle, in vitro or in vivo. The intelligent design and automated control enables you to reliably change and position your electrodes quickly and easily.
Perform sensitive recordings
You can detect even the quietest signals due to the low noise of the PatchStar. This enables you to perform sensitive recordings, such as single channel recordings, with ease.
Long-term recordings on small structures
With precise and stable movement, the PatchStar is ideal for long-term experiments on small structures, such as dendrites.
Easy to customise to your requirements
The modular design means there are various configurations available. The PatchStar can be easily switched between left and right-handed configuration, allowing it to be mounted on both sides of the sample.
Small footprint
The compact design of the PatchStar means you can easily mount your micromanipulator close to the sample.
Easy rotation
Rotate the PatchStar with no need for tools; magnetic stops ensure the PatchStar is held in place whilst allowing it to be easily rotated away from your sample for pipette exchange, and then return to your precise recording position.
Effortlessly adjust your approach angle
The rotary stage and wide range of brackets available make it simple to adjust your approach angle and height to suit your application and sample. With automatic angle detection to easily change the angle of the 4th virtual axis
Simple and repeatable pipette exchange
Fast pipette movement and exchange is made easy by the sliding bracket and rotational stages. Your experiments won't be held up and you can collect data faster. Memory positions held on the Controller or LinLab software can return the manipulator to a specific cell of interest if you need to replace your pipette mid experiment.
In vivo and in vitro
From in vivo multielectrode recordings to whole-cell patch clamp, you can perform a range of in vivo and in vitro experiments using the PatchStar.
The most versatile micromanipulator
Continuous developments based on customer feedback have enhanced the PatchStar and made it the ideal micromanipulator for a diverse range of applications, samples, and experiments. Each axis of the micromanipulator is an individual module, allowing you to easily reconfigure the PatchStar at any time, when your experimental needs change.
The sliding carriage enables a variety of headstages to be attached to the PatchStar. The range of brackets available, control options and software developments give you optimum flexibility. This is a micromanipulator that you can rely on.
Layer V pyramidal neurons in the V1 cortex acquired on a multipatch setup by Dr. Hovy Wong in the lab of Dr. Jesper Sjöström.
Applications
Patch clamp electrophysiology
In vivo electrophysiology
Neural probe positioning
Multielectrode recordings
Microinjection
Extracellular/field recordings
Intracellular/whole cell recordings
Two-electrode voltage clamp
Stimulation electrode
Picospritzer
Electrical engineering experiments
Cell interaction studies
Mechanical studies
Scanning ion conductance microscopy
Scientifica services for this product
Intuitive control options and software
Operate the PatchStar via our ergonomically designed remote control options or through our specially designed LinLab software.
Choose between the Scientifica Control Cube or PatchPad, which are both ergonomic, simple to use, customizable speeds and compact in design.
LinLab allows integration between Scientifica components or serial command codes can be provided for use with third party software. There are two speed settings available, which can be independently configured in the software and toggled between at the flick of a switch; fast speed for coarse positioning and patch speed for the final position.
"The compact shape of the PatchStar made it simple for me to install onto my existing rig. The movements of the PatchStar feel very smooth and the Control Cube allows me to easily gauge and adjust the speed of movement."
Siyi Ma

McMaster University
"The success rate of my outside-out patch clamp recordings significantly increased to over 90% or even 100%."
Dr Can Peng

University of Florida
"We selected PatchStar micromanipulators for the combination of high precision, stability and competitive price."
Dr Roman Gorbachev

The University of Manchester
"The PatchStar is the new standard. After 6-months of use, we are still truly impressed by the stability."
Dr Christophe Bernard

Aix Marseille Université
"Since discovering the PatchStar, we have upgraded all of our nanoindentation setups to include it. The long travel range and high stability of the manipulator help us to reliably perform indentation measurements on a wide variety of samples without needing to make adjustments to the setup. This allows us to spend more time collecting data."
Erik Paardekam

VU University Amsterdam
"I started using the Patchstar system 10 years ago to perform in vivo dual recordings in Drosophila. Stability, versatility, and reliability are features we can't compromise on; the Patchstar manipulators have certainly delivered. They now feature in all of the lab's electrophysiology rigs."
Dr. Diogo Pimentel

Centre for Neural Circuits and Behaviour, University of Oxford
"I would say that it is an incredibly stable and silent micro-manipulator which allows long-lasting recordings without mechanical drift or electrical noise."
Dr. Julien Dupuis

University of Bordeaux
"We purchased our first PatchStar because we liked the design and appreciated its excellent handling properties. It has been a great tool for our patch clamp experiments, which is why we have purchased nine other PatchStars since"
Dr. Rob Roelfsema

University of Würzburg
"The PatchStar is much more stable, faster, and easier to use than my previous micromanipulator – very user friendly. Its movements are very smooth and it is easy to control via the Control Cube (I am mainly using it to do patch-clamp on muscle cells in C. elegans and zebrafish). Definitely a most welcome improvement of my setup!"
Dr. Jana Liewald

Goethe University Frankfurt
"We replaced an old faulty micromanipulator with the Patchstar with the aim of performing voltage clamp measurements on HEK293 cells. The Patchstar has performed very well, it is easy to use and very stable during the course of our measurements. A definite improvement to our setup!"
Dr. Srividya Ganapathy

Delft University of Technology
"Our research group has used the Scientifica PatchStar for many years and find it to be reliable, easy and intuitive to use for visually guided patch clamp. It gives us the fine control we need for patching multiple cells and maintaining those seals over long recordings."
Hannah Warming

University of Southampton
"I get on great with the Scientifica PatchStars – I've been using them for years and they're really robust. I've just brought another one in my growing lab!"
Dr Benjamin Warren

University of Leicester
"They are incredibly precise and easy to use, really user friendly"
Dr. Andrew Boyce

University of Calgary
"The delivery of our PatchStar microinjection system was quick and uncomplicated, despite Brexit. The convincing product quality and the prompt and competent support from the Scientifica team in UK characterize a very individual and pleasant cooperation."
Barbara Reischl

Friedrich Alexander University
Customise the PatchStar to suit you
A wide range of accessories are available to adapt the PatchStar to your specific requirements. These include:
Shallow bracket
Allows low, shallow angle positioning of the headstage or probe (recommended if mounting on SlicePlatform, MTP or MMTP).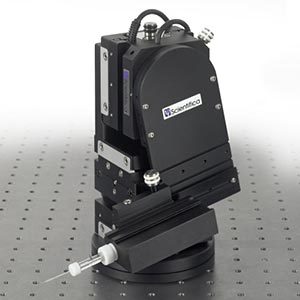 Shallow Bracket (PS-7500)

Steep bracket
Allows steep angles or additional height reach for the headstage or probe (recommended if mounting on MMBP).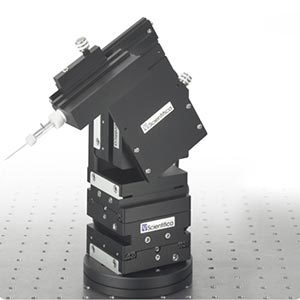 Steep Bracket (PS-7550)

Low Profile L Bracket
Allows the position of the Z axis module to be changed, lowering the height of the PatchStar for rigs with height restrictions.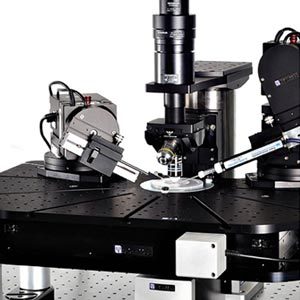 Low Profile L Bracket (PS-7800)

Dovetail Probe Holder
For mounting a range of bars and probes.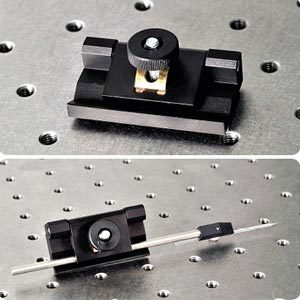 Dovetail Probe Holder (PH-1000)

Electrode Holding Bar
With a v groove to hold glass capillaries.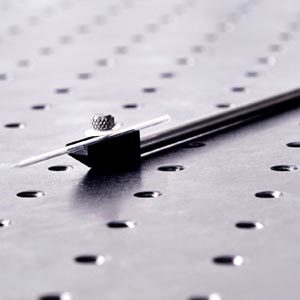 Electrode Holding Bar (EHB-500).

Magnetic Base
Low-profile magnetic base to attach your PatchStar to your antivibration table or other platform.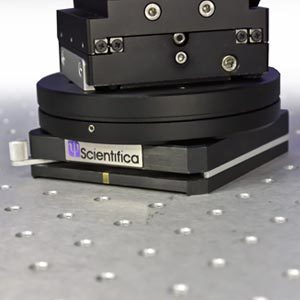 Magnetic Base (S-MB-3020-00)

Sliding Carriage
Sliding probe holder with a fixed angle of approach to mount stimulation bars, or headstages with mounting bar to PatchStar.
Fixed Sliding Probe Carriage (PS-7750)
Speak to one of our experts for details on pricing, features, installation and support.