Scientifica has provided two SliceScope Pro 1000 systems for the UPMC-ENS Neurophysiology Lectures in Paris until the 6th October. Find out more: http://www.scientifica.uk.com/...
×
Thank you
Your quote request has been received and we will be in touch shortly.
Scientifica SliceScope Pro 2000
An integrated electrophysiology rig ideal for dual or single patch clamp recording with a movable microscope. This system consists of the SliceScope microscope, motorised XY translation stage, fixed-stage platform and two PatchStar micromanipulators. The large plate allows the easy addition of extra manipulators or recording apparatus.

Versatile
The platform, with incorporated mounting carriages, gives flexibility for positioning manipulators and other equipment. There are also options for fluorescent microscopy and a variety of contrast techniques
Control options
Control the focus, condenser, translation stage and micromanipulators from any of our remote control options.

Alternatively use Scientifica's LinLab software, developed specifically to control all of our motorised components and heating and perfusion elements.
Research Papers
Benevento, M., Iacono, G., Selten, M., Ba, W., Oudakker, A., & Frega, M. et al. (2016). Histone Methylation by the Kleefstra Syndrome Protein EHMT1 Mediates Homeostatic Synaptic Scaling. Neuron, 91(2), 341-355. http://dx.doi.org/10.1016/j.ne...
Beyeler, A., Namburi, P., Glober, G., Simonnet, C., Calhoon, G., & Conyers, G. et al. (2016). Divergent Routing of Positive and Negative Information from the Amygdala during Memory Retrieval. Neuron, 90(2), 348-361. http://dx.doi.org/10.1016/j.ne...
Burgos-Robles, A., Kimchi, E., Izadmehr, E., Porzenheim, M., Ramos-Guasp, W., & Nieh, E. et al. (2017). Amygdala inputs to prefrontal cortex guide behavior amid conflicting cues of reward and punishment. Nature Neuroscience. http://dx.doi.org/10.1038/nn.4...
Dehorter, N., Ciceri, G., Bartolini, G., Lim, L., del Pino, I., & Marin, O. (2015). Tuning of fast-spiking interneuron properties by an activity-dependent transcriptional switch. Science, 349(6253), 1216-1220. http://dx.doi.org/10.1126/scie...
Fyk-Kolodziej, B., Hellmer, C., & Ichinose, T. (2014). Marking cells with infrared fluorescent proteins to preserve photoresponsiveness in the retina. Biotechniques, 57(5). http://dx.doi.org/10.2144/0001...
Hellmer, C., Zhou, Y., Fyk-Kolodziej, B., Hu, Z., & Ichinose, T. (2016). Morphological and physiological analysis of type-5 and other bipolar cells in the Mouse Retina. Neuroscience, 315, 246-258. http://dx.doi.org/10.1016/j.ne...
Ichinose, T., & Hellmer, C. (2015). Differential signalling and glutamate receptor compositions in the OFF bipolar cell types in the mouse retina. The Journal Of Physiology, 594(4), 883-894. http://dx.doi.org/10.1113/jp27...
Ichinose, T., Farshi, P., Fyk-Kolodziej, B., Krolewski, D., & Walker, P. (2015). Dopamine D1 receptor expression is bipolar cell type-specific in the mouse retina. The Journal Of Comparative Neurology, 524(10). Retrieved from http://onlinelibrary.wiley.com...
Ichinose, T., Fyk-Kolodziej, B., & Cohn, J. (2014). Roles of ON Cone Bipolar Cell Subtypes in Temporal Coding in the Mouse Retina. Journal Of Neuroscience, 34(26), 8761-8771. http://dx.doi.org/10.1523/jneu...
Pougnet, J., Toulme, E., Martinez, A., Choquet, D., Hosy, E., & Boué-Grabot, E. (2014). ATP P2X Receptors Downregulate AMPA Receptor Trafficking and Postsynaptic Efficacy in Hippocampal Neurons. Neuron, 83(2), 417-430. http://dx.doi.org/10.1016/j.ne...
Vodeneev, V., Sherstneva, O., Surova, L., Semina, M., Katicheva, L., & Sukhov, V. (2016). Age-dependent changes of photosynthetic responses induced by electrical signals in wheat seedlings. Russian Journal Of Plant Physiology, 63(6), 861-868. http://dx.doi.org/10.1134/s102...
Worldwide Presence
Scientifica's equipment is used in more than 50 countries worldwide. Some of our customers include; California Institute of Technology, University of Oxford, Stanford University, University of Cambridge, Massachusetts Institute of Technology, Harvard University, Princeton University, Imperial College London, University of Chicago, Johns Hopkins University, Yale University and over 700 more research institutions.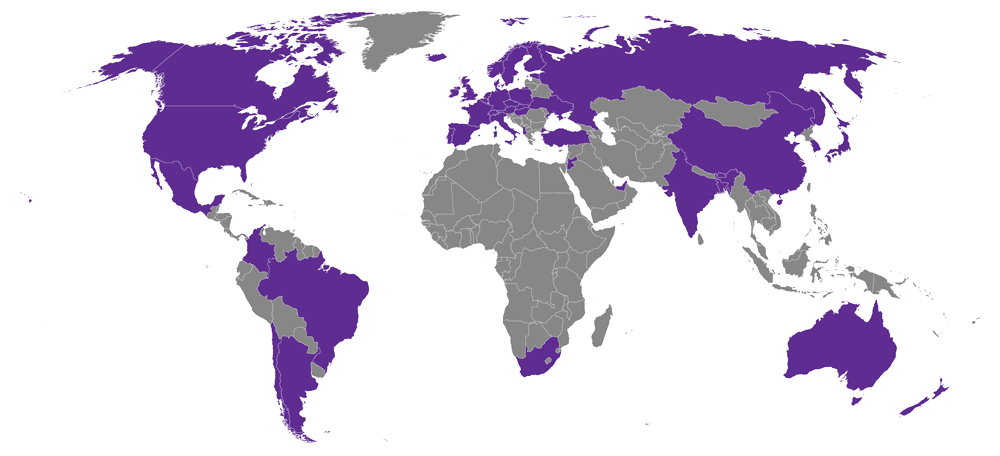 2 Year Warranty
Scientifica offer a two-year warranty with all Scientifca manufactured goods and a one-year warranty for third party supplied goods. Giving you peace of mind when purchasing your Scientifica equipment.
Scientifica Exchange Programme
Scientifica Exchange gives you a convenient method for swapping your faulty equipment over for working instruments quickly, to keep you working even if something goes wrong.
In the event that a Scientifica product needs repairing or servicing then the faulty equipment may be exchanged for the same type of equipment from Scientifica's service stock.
To ensure the service is fast and cost effective we will ship you the replacement part as soon as we can. Read more about the exchange programme here.