Berlin city information for the 2018 FENS Forum of Neuroscience
Here's a guide about transport in Berlin to help you plan your travel during the FENS Forum of Neuroscience.
We have also included information about unmissable sites to visit in Berlin if you have time before or after the conference. We have collated this information from a range of sources, and hope you find it useful!
Getting from the main airport to hotels
Airport Berlin Tegel
The best way to travel into the city from Tegel Airport is by bus, as there is no direct link to the S-Bahn or U-Bahn.
The Express Bus X9 departs from Tegel Airport every five to ten minutes. It takes around 20 minutes to reach its final destination, Zoo Station, and from here the U-Bahn and S-Bahn can be accessed. The fare is 2.80 euros one way.
The TXL Express Bus departs from Tegel Airport every six minutes and travels to Alexanderplatz via Main Station (Hauptbahnhof).
Taxis from Tegel Airport cost between 20 – 30 euros.
Airport Berlin Schönefeld
Schönefeld airport has links to the S-Bahn, regional trains and buses. Trainlines S9 and S45 take you to the city centre. Airport Express trains run in 30-minute intervals between 4:30am and 11pm, stopping at Ostbahnhof, Alexanderplatz, Berlin Central Station, Berlin-Zoo and Charlottenburg. A single ticket is 3.40 euros.
Buses run from Terminal A to the city centre. These are: 163, 171, X7, N7, N60.
Taxis from Schönefeld Airport to the city centre cost between 40 – 50 euros.
Getting around the city and to the convention centre
FENS is taking place at the following address:
CityCube Berlin, Messedamm 26. 14055 Berlin
There are plenty of transport options in Berlin; trains, buses, subways, trams, taxis, ferries and bikes. The same ticket gives you access to the S-Bahn, U-Bahn, buses, trams and ferries. Before starting a journey, ensure you validate your ticket in either yellow or red boxes on platforms, or in buses and trams. If your ticket has not be validated, it is invalid.
If you are expecting to travel around the city a lot on public transport, and visit plenty of sights and attractions, it may be worth getting a Berlin WelcomeCard.
Ticket fares
A single fair ticket (Einzelfahrschein) enables you to travel two hours through the city, however, if you travel towards the direction of your starting point, you must buy a new ticket.

These cost 2.80 euros for zone AB and 3.40 euros for zone ABC.
With a short distance ticket (Kurzstrecke) you can travel for three stops on the S-Bahn and U-Bahn, and you can change trains. It also allows you to travel for fix stops on buses and trams, but you cannot change to a different vehicle.
These cost 1.70 euros.
A day ticket (Tageskarte) allows you to travel for a whole day on as many trips as desired. From validation, the ticket is valid until 3am the next day.
These cost 7 euros in zone AB and 7.70 euros in zone ABC.
A seven day ticket, from the day of validation, is valid for seven consecutive days. It expires at midnight on the seventh day.
These cost 30 euros.
Once at the conference come and see us at booth 77 where we will be exhibiting our latest products.
Top sights to see
There are plenty of attractions and historical sites to see in Berlin. Here are our recommendations for when you have some free time:
Berliner Unterwelten
Berliner Unterwelten is an association that explores and documents the city's underground architecture and makes it accessible to the public. They offer tours in various languages to visit bunkers and other infrastructures built under the city during the second World War and Cold War.
Brandenburg Gate
Brandenburg Gate symbolises the division of East and West Germany in the Cold War, as well as the reunification of Germany following the fall of the wall.
East Side Gallery
This former section of the Berlin wall is now covered in more than 100 paintings and is a protected monument of the Berlin wall. At 1316 metres long, it is the longest open-air gallery in the world.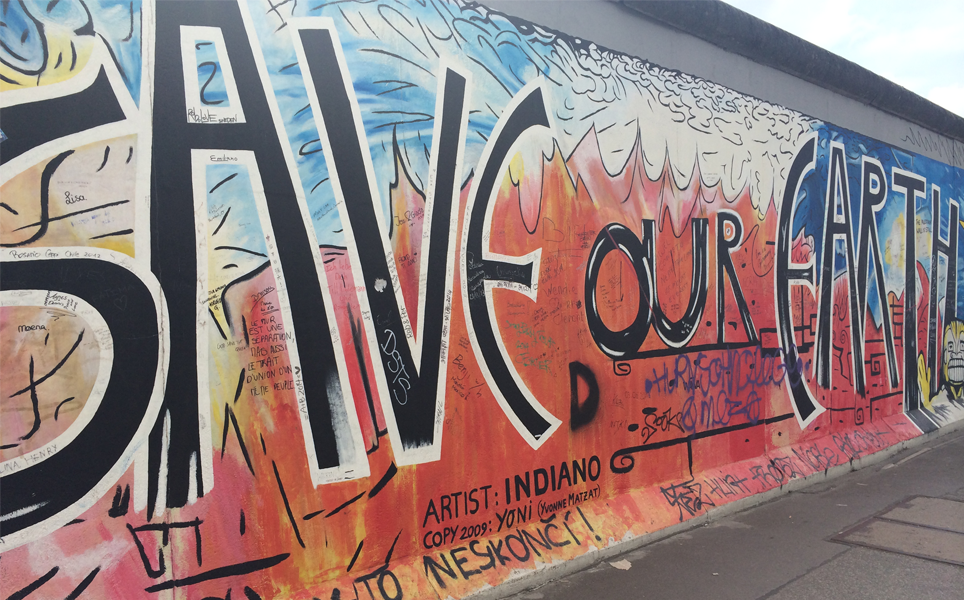 Berliner Dom
Berlin Catherdral is Berlin's largest church. Located on Museum Island (which is listed as a UNESCO World Hertage Site) in the Mitte district, this Protestant church is one of the main sights to see in the city centre.
Victory Column
The Berlin Victory Column is situated the centre of Tiergarten, Berlin's largest park. Climb to the top of the tower to an observation deck where you will have amazing views of Tiergarten and Berlin.
Berlin TV Tower
Located in Alexanderplatz, the TV Tower is the tallest building In Germany. The steel sphere at the top contains an observation deck at 203m high and a restaurant that's 207m high.
Checkpoint Charlie
Checkpoint Charlie was a border crossing between East and West Berlin during the Cold War. Here you will find a barrier, checkpoint booth, flags and sandbags to replicate the original site.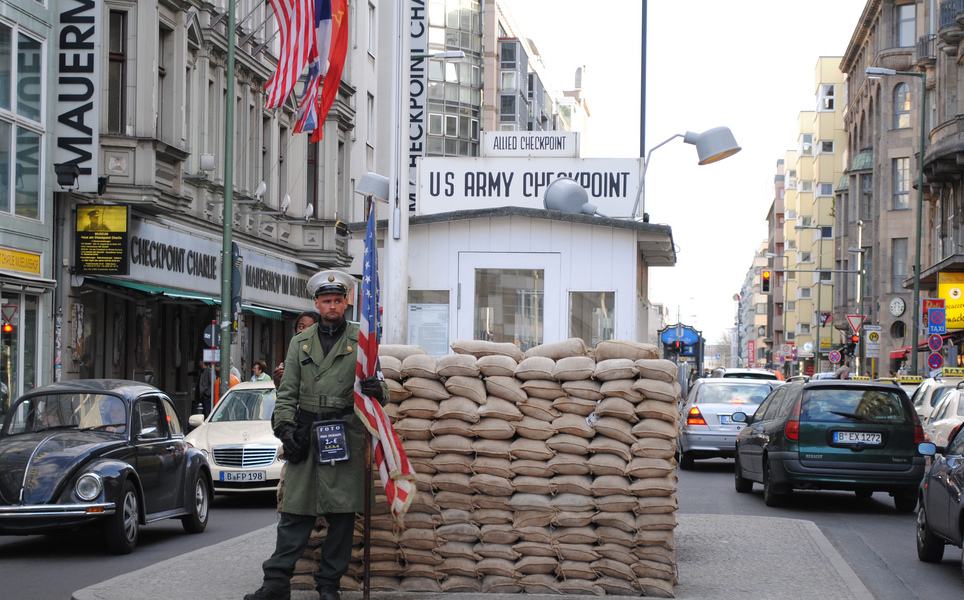 Berlin's Holocaust Memorial
This impressive memorial is dedicated to the Jewish victims of World War II, instilling contemplation and remembrance. The memorial is huge; it contains 2711 rectangular concrete blocks of different heights. The underground information centre holds information about victims including photographs, diaries and letters.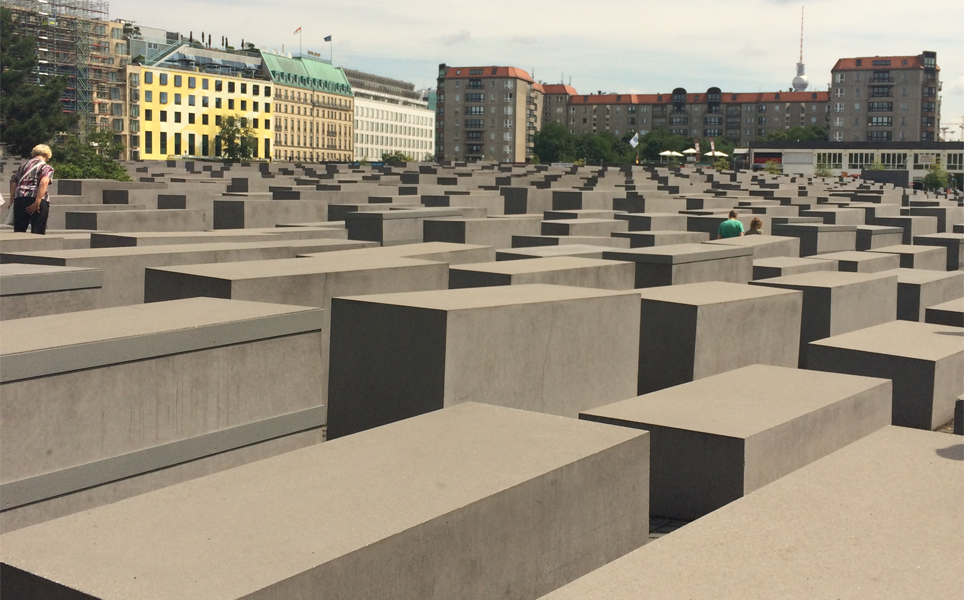 Reichstag
The Reichstag is home of the German parliament and a symbol of democracy. It is well-worth visiting the roof terrace and glass dome at the top of the building, where you will get a bird's eye view across the city.