CoolLED pE-300lite
LED illumination system that offers intense, broad-spectrum LED illumination for imaging most common fluorescent stains

CoolLED's pE-300lite is a simple white light LED illumination system that offers intense, broad-spectrum LED illumination for imaging most common fluorescent stains.
The light source can be fitted directly to the microscope or specified with a liquid light guide. The system is a mercury-free alternative that is safer, more controllable, and repeatable than conventional high-pressure gas discharge illuminators. The system is perfect for hospital and regular research laboratory environments and is affordable within consumables budgets.
As part of the pE-300 Series, the NEW Enhanced pE-300lite now delivers DOUBLE the intensity at the microscope sample plane. It allows adjustment of output in 1% steps, giving precise control. The broad spectrum covers everyday fluorophores: DAPI, CFP, Aqua, FITC, TRITC, TxRed, Cy5 and many more.

The pE-300lite provides a broad spectrum of illumination, covering the excitation bands of many common fluorescent stains. Operation is by a remote manual control pod with instant on/off and intensity control from 0-100%.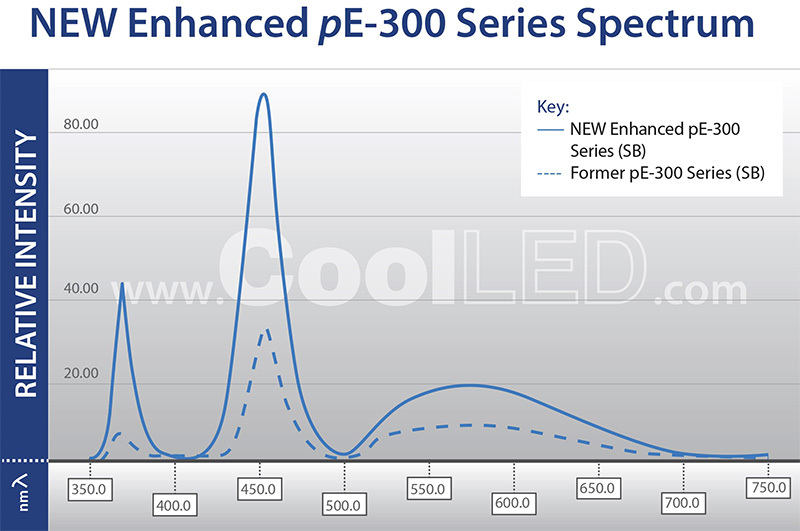 System Overview
The system comprises a pE-300lite Light Source, control pod, and power supply. It can be specified with a microscope adaptor for direct fit configuration or with a 3 mm diameter liquid light guide if there is a need to keep the source of illumination remote from the microscope. An optional pE-Universal Collimator and microscope adaptor can be selected for use with a liquid light guide.
As a replacement to a metal halide source on a confocal microscope, the liquid light guide configuration is particularly suitable for pre-aligning samples before scanning commences. In this way, photo bleaching of the sample can be minimised when LED illumination is used.

Long Lasting
With an expected lifetime in excess of 25,000 on hours and a comprehensive range of microscope adaptors, the pE-300lite can be fitted to most current and older microscopes and operate for many years without aligning or replacing bulbs. The result is a safe, convenient illumination system without any additional operating costs.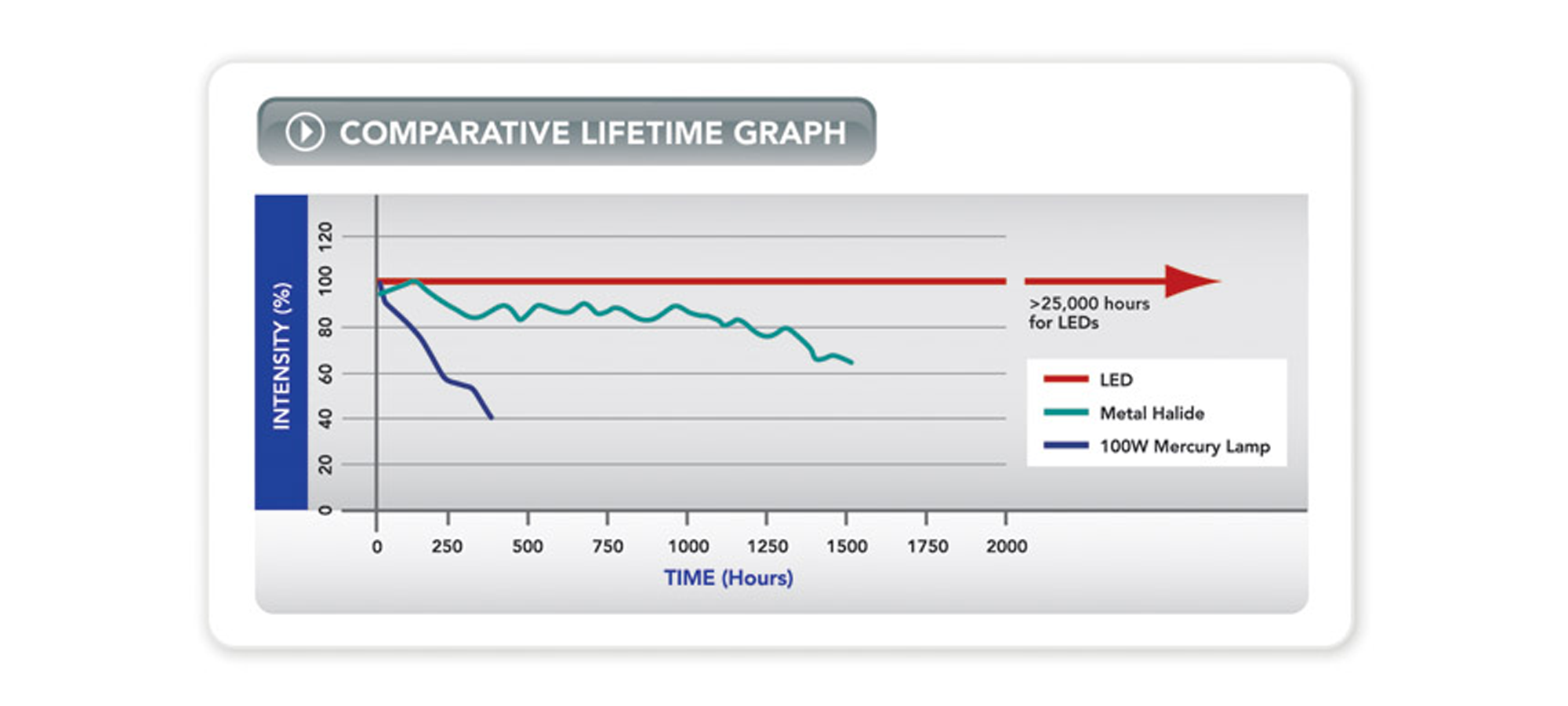 Configuration Options
Direct-fit for connecting to a microscope – by selecting from a range of microscope adaptors which covers all current and most older models. A simple once only adjustment will allow optimisation to the optical path of the microscope.
Liquid Light Guide with a fixed 3 mm diameter, liquid light guide. An optional pE-Universal Collimator can be specified in conjunction with a microscope adaptor if required.
Warranty
CoolLED provide a 36 month warranty on both the system and the LEDs.
Power requirements

Power requirements

100-240V a.c. 50/60Hz, 1.4A
Power consumption

Power consumption

2W (standby)
80W (full white intensity)
Dimensions

Dimensions

pE-300lite Light Source: 77mm(w) x 186mm(d) x 162(h) - Weight 1.4kg
pE-300lite Control Pod: 88mm(w) x 125mm(d) x 37mm(h) - Weight 0.32kg
pE-300lite Power Supply: 167mm(w) x 67m(d) x 35mm(h) – Weight 0.62kg
pE-Universal Collimator: 44mm(w) x 86mm(d) x 44mm(h) – Weight 0.17kg
Environment & Safety

Environment & Safety

Mercury-free
Energy Efficient: 80% less power
Long lifetime (25,000 operating hours)
No bulb replacements
Reduced risk of eye damage
Quiet operation
No special disposal regulations or issues