The HyperScope multiphoton imaging system now has advanced imaging capabilities; the introduction of an extended wavelength lens set means you can image deeper and through thin scattering layers in in vivo samples. Learn more here.
CoolLED pE-800
The pE-800, with eight individually controllable LEDs and fast TTL switching, takes centre stage as the widefield illumination method of choice.

Versatile
8 selectable channels offers versatility, with any channels selectable simultaneously at 100%
Individual control
Individual control of selected LED wavelengths reduces background
Broad spectrum of wavelengths
From 365-740 nm, covering DAPI-Cy7
High-speed imaging
Industry-leading <7 µs TTL triggering for high-speed imaging
Control
Software, TTL, analogue control options for optimised illumination. Optimised irradiance control in 1 % steps (2-100 %) and fine control from 0-2 %.
High-speed imaging
Removable inline excitation filter holders: no moving parts for high-speed imaging
Light delivery
Via liquid Light Guide for maximum compatibility
Mix & match with eight channels
Eight powerful and efficient LEDs offer broad spectral coverage from 365-740 nm for use with fluorophores ranging from DAPI to Cy7. The choice of fluorophore is no longer limited by the light source, and choosing the optimal set for each application has never been easier – even as requirements evolve over time.

All eight channels can be individually controlled, with each LED selected to perfectly match the selected fluorophores. Excitation filters with white light sources let through more unwanted light, and by matching the LED this improves the signal to noise ratio for contrast-rich images revealing finer details and more information.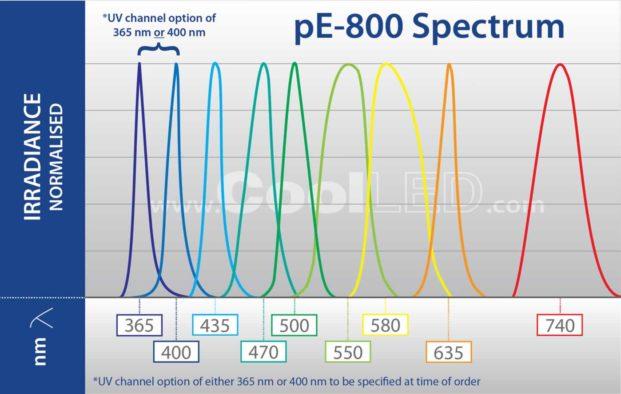 Capture high-speed events
Industry-leading <7 µs TTL triggering is a breakthrough for live cell imaging. Capturing dynamic events is possible with the highest temporal resolution and even without software, thanks to precise hardware synchronisation via TTL input for each channel and compatibility with the pE-6501-8 (USB controlled TTL Conversion Kit).
Beyond imaging
Eight individual analogue inputs allow irradiance to be controlled from 0-100 % for each channel via analogue signal (0-10 v), which is ideal for electrophysiology and optogenetics applications.
Environment & Safety
Adopting LED light sources for fluorescence microscopy helps laboratories become more sustainable, saving energy and reducing the carbon footprint when compared with using mercury lamps. CoolLED's products have the following benefits:
Mercury-free and laser-free
Energy Efficient
Long lifetime
No bulb replacements
Reduced risk of eye damage
Quiet operation
No special disposal regulations or issues
Warranty
System = 36 months, LEDs = 36 months
Power requirements

Power requirements

100-240 V a.c. 50/60 Hz, 1.4 A
Power consumption

Power consumption

Maximum power consumption

Maximum power consumption

127 W
Maximum power consumption when on standby

Maximum power consumption when on standby

6.4 W
Dimensions

Dimensions

pE-800 Light Source

pE-800 Light Source

173 mm(w) x 247 mm(d) x 174 mm(h) – Weight 3.51 kgpE-800
Power Supply

Power Supply

164 mm(w) x 64 mm(d) x 35 mm(h) – Weight 0.58 kgpE
Universal Collimator

Universal Collimator

44 mm(w) x 86 mm(d) x 44 mm(h) – Weight 0.17 kg