Neuroscience 2016: Conference Roundup
This year's Society for Neuroscience Annual Meeting was, as always, a brilliant conference bringing together some of the brightest minds in the industry. According to SfN's official figures, a total of 30,353 attendees visited the San Diego Convention Center to share the most recent research in the world of neuroscience.
Over five beautifully sunny days in Southern California, more than 14,000 posters and 850 sessions were presented to fascinated audiences listening to topics as diverse as molecular neurobiology, whole-brain imaging and sociology. In between the talks on fundamental neuroscience research, many forums discussed the latest tools and techniques that neuroscientists are using to further our understanding of the brain and nervous system.
Lectures
Dendritic Spines Shaping Memory and Behaviours - Haruo Kasai
Professor Kasai's lecture looked at a brief history of the discovery of dendritic spines and subsequent findings. Now known to be the major postsynaptic sites for excitatory synaptic transmission in the brain, new research suggests that these spines act as "memory elements" through structural plasticity. Furthermore, alterations to intrinsic fluctuations in dendritic turnover seem to be indicated in both autism spectrum disorders and schizophrenia.
Sixty Years of Research on Neurotransmitter Release in the Light of Recent Results from the Calyx of Held Synapse - Erwin Neher
This year's Fred Kavli History of Neuroscience Lecture was given by the legendary Professor Erwin Neher, co-inventor of the patch clamp technique and winner of the 1991 Nobel Prize in Physiology or Medicine (with Bert Sakmann) for "their discoveries concerning the function of single ion channels in cells."
Neher's talk looked at six decades of history concerning the release of neurotransmitters as first laid out by Sir Bernard Katz in the 1950's. However, since the first descriptions, new complexity has been added to our understanding of this phenomenon. These complexities include heterogeneity of vesicle pools, refractoriness of release sites, and an additional event, known as "superpriming".
Regulation of Neural Stem Cell Fate During Development and in the Adult - Yukiko Gotoh
Professor Yukiko Gotoh gave a wonderful lecture on the differences in regulation of neural stem cell fate during development and in the adult brain.
Some of the most interesting findings included how enriched environments, exercise, neuronal activity, injury and anti-depressants can lead to increased neurogenesis in the adult brain. Conversely, ageing and stress lead to a decrease in neurogenesis. Further research has also shown that cell cycle inhibitors play a role in activating quiescent neural stem cells in the adult brain.
Symposia
Techniques in Electrophysiology Recording and Stimulation – Chair: Peter Steinmetz
This nanosymposium consisted of eight short talks looking at the latest developments in experimental methods to perform electrophysiological recording and stimulation. Two of the talks that stood out were "Targeted intracellular recordings from deep-layer cortical neurons in vivo using nano-pipettes" and "Non-invasive deep brain stimulation via delivery of temporally interfering electric fields".
The first of these talks described a method called Sharp and Prism Enabled Electrophysiology Recording (or SPEER) which used two-photon targeting to enable patch clamp recordings of layer five cortical neurons. The second talk showed how a new technique should allow non-invasive deep brain stimulation, a potentially useful tool for research in humans.
Advanced imaging methods and probes - Chairs: Francois St-Pierre and Lawrence Cohen

Thirteen inspiring talks, looking at some of the most innovative advances in imaging and probes, formed this nanosymposium. Weijan Yang's talk on 3D holographic imaging and optogenetics with spatial light modulators was fascinating, particularly the ability to simultaneously image up to seven axial planes.
Mesoscale Imaging of Cortical Function and Dysfunction in Mice – Chair: Jack Waters
Mesoscale imaging is becoming increasingly popular, and the ability to image most of the mouse cortex is helping researchers to elucidate new information about neuronal circuits and function. This minisymposium included several talks on how different neuroscientists are using mesoscale imaging to answer their research questions. Adam Hanton's talk on the role of the cortex in skilled motor actions described how optogenetic excitation of inhibitory neurons helped his lab to recognise which areas of the brain were necessary for the completion of dextrous tasks.
Posters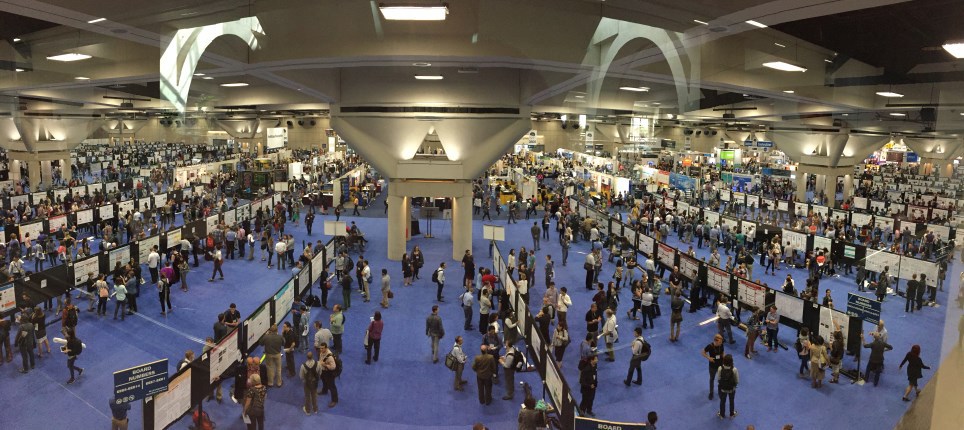 The quality of posters was especially good this year and included one by our very own Lindsey Vedder on the role of BDNF in hippocampal long-term potentiation deficits caused by diencephalic damage.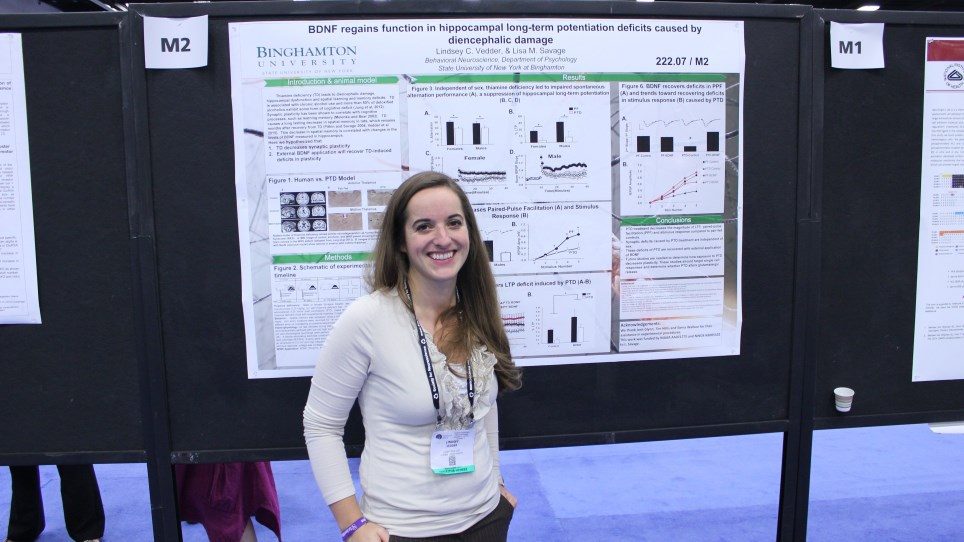 Lindsey Vedder presents her poster at Neuroscience 2016 in San Diego
It was incredible to see the excitement and interactions happening across all the posters in the exhibition hall and the number of attendees showing an active interest in the research of others.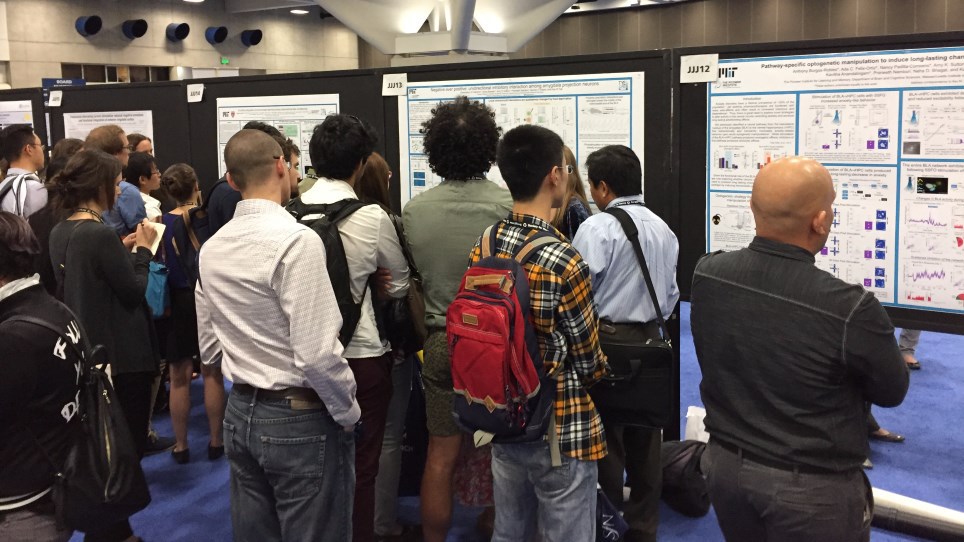 Attendees gather around three posters from the Kay Tye lab at MIT
Scientifica Tweets @ #SfN16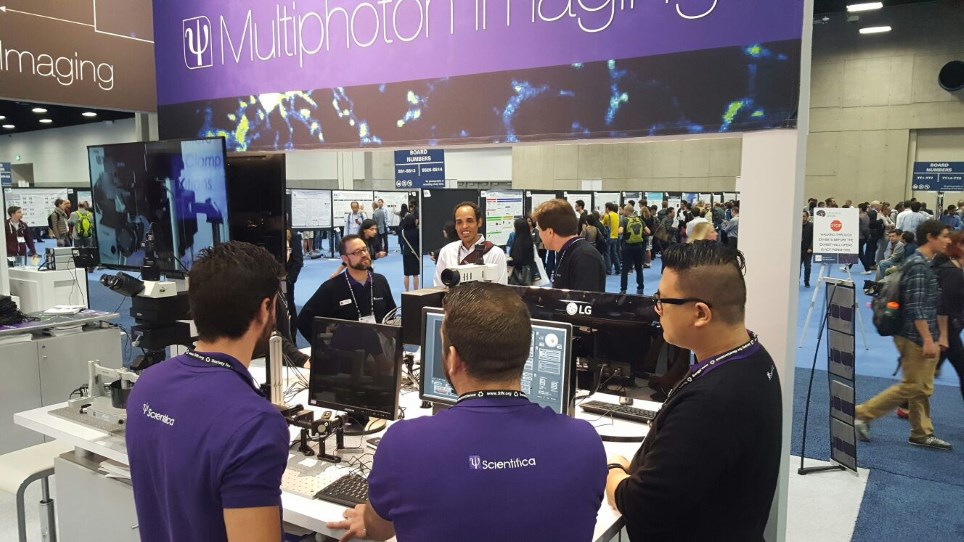 We hope you enjoyed Neuroscience 2016 in San Diego this year and we can't wait to see you again in Washington, DC, next year!