An interview with Leon Lagnado: Organiser of the Imaging Structure and Function in the Zebrafish Brain Conference
Leon Lagnado is a Professor of neuroscience at the University of Sussex as well as one of the organsiers of the 2018 Imaging Structure and Function in the Zebrafish Brain Conference. Here he shares more about his work at Sussex, what inspired him to research visual processing and how the conference works.
1. Can you tell us about your role at the University of Sussex?
I am a Professor of neuroscience at the University of Sussex and Co-Director of Sussex Neuroscience, a programme that seeks to enhance neuroscience research across the university. So, as well as running my own research group and teaching neuroscience I also work towards creating an environment in which research can thrive. Sussex is a relatively small university but we have close to 50 groups working in different aspects of neuroscience, distributed across the schools of Life Sciences, Psychology, Informatics and the Brighton and Sussex Medical School.
2. What inspired you to research visual processing?
I first became interested in vision as an undergraduate studying physiology at UCL, where I learnt how we could understand the senses at the level of molecules and cells. My training there was based strongly on cellular neuroscience, and I also found electrophysiology and synapses intriguing. As a post-doc at Stanford I learnt more about neural circuits in general and the visual system is a wonderful context in which to study how neurons and synapses operate to process information. I have been investigating these questions for the last 25 years - there is a lot to find out!
3. What is the Imaging Structure and Function in the Zebrafish Brain Conference?
It is a biennial meeting based in Europe but involving neuroscientists from around the world, with two things in common: they use zebrafish to investigate fundamental questions in neuroscience and imaging is a major technique in their research. Along with mice and fruit flies, zebrafish have become one of the most important model organisms across many areas of biology. They have the key advantage that they are almost transparent in their larval stage and so we can use optical microscopy to observe their inner workings. In the context of neuroscience, for instance, it is possible to use fluorescent reporter proteins to image the activity of almost all the neurons in the brain of the live fish.
4. What is the aim of the conference and why do people attend?
The basic aim, as with any conference, is to share information, meet fellow scientists and discuss current questions. This conference has an emphasis on techniques and new methods, so some attendees are particularly interested in finding out what is new on that front. The community of scientists working with zebrafish are an innovative lot and many are pushing the boundaries of what is possible experimentally.
5. What is your role in organising the conference?
Everything from organising a venue to inviting speakers and planning the programme. However, this is a team effort and two folk in my lab, Sofie Seibel and Kate Hampden-Smith, spent many more hours on this than I did.
6. How many people attend?
This was the largest yet with nearly 200 people. We could have had many more but there is a feeling that it should not become too big.
7. How do sponsors support the conference?
Sponsors support the conference both financially and by demonstrating their latest products. As I mentioned, all the participants are using imaging in one form or another, so they are particularly interested in what is new in optical microscopy.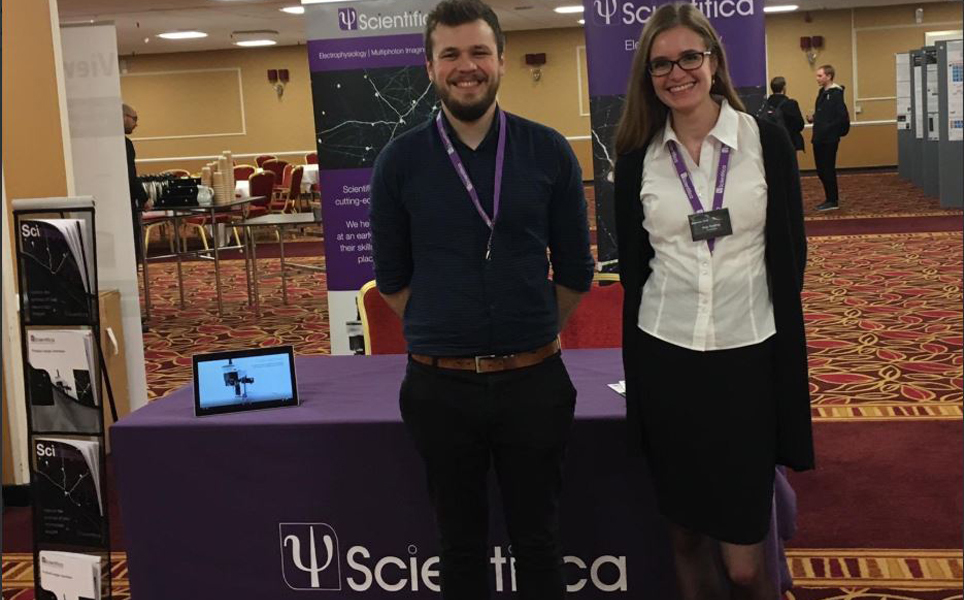 Find out about Scientifica's latest product releases, company news, and developments through a range of news articles, customer interviews and product demonstration videos.