My journey at Scientifica: Matt Kemp, Managing Director
---
Matt Kemp explains how he has progressed from a Sales Engineer to Managing Director, highlighting his greatest achievements during his eighteen years with Scientifica.
What was your first role at Scientifica and when did you start?
I started with Scientifica in October 2000 as a UK Sales Engineer. The role was an internal sales support role to help the other sales people with creating quotes and booking sales visits.
How have you progressed?
My role has changed hugely over the time; I have worked as a UK Sales Engineer, UK Sales Manager, North America Sales Manager and Sales and Marketing Director, and am now Scientifica's Managing Director.
When I first started we were a small company of five people and acted as a distributor for some electrophysiology products within the UK. Eighteen years on, we have eighty team members who are designing, building, selling, installing and supporting researchers in electrophysiology, multiphoton imaging and optogenetics all over the world. I feel that I have been instrumental in this development and have enjoyed the challenges and rewards along the way.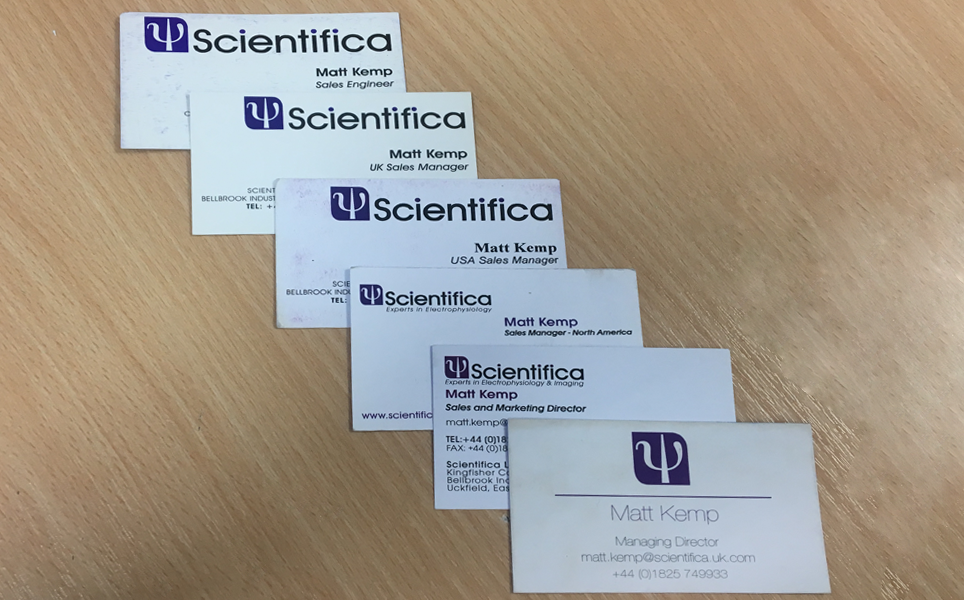 Where do you see yourself in the future?
I am looking forward to heading Scientifica for the future, continuing the development of the company as a whole and developing the strong team of people who work for Scientifica.
What is your greatest achievement/proudest moment?
This is a really tough one as there have been so many over the eighteen years. I will allow myself to pick two:
1. I was instrumental in the development of the PatchStar. The scientists I spoke to were demanding a better manipulator and, by working with researchers in Bristol as well as designers and internal engineers, the PatchStar was born. This manipulator really changed the focus of Scientifica and turned us into a strong designer and provider of equipment, not just a distributor.
2. Developing the North American market. By moving outside my comfort zone within the UK I began to develop Scientifica's presence in North America. I travelled repeatedly to the USA visiting customers, introducing Scientifica and building trust with the scientists across the pond. As the trust and recognition developed, scientists would choose Scientifica over their previous "go to" solutions. This caused another big change in Scientifica as a whole and I believe this has been a huge benefit to both Scientifica and researchers.
If you are interested in working for Scientifica, take a look at our latest openings and find out how you can send us your CV for consideration when a relevant role becomes available.