Spectra-Physics Mai Tai HP
The Spectra-Physics Mai Tai® Ti:Sapphire oscillator is used for a variety of applications ranging from general spectroscopy to multiphoton microscopy. With its leading performance specifications and largest installed base of any laser of its type, the Mai Tai is truly a cutting-edge tool for basic research and biological imaging.
For more information, please visit http://www.spectra-physics.com


​Ideal for multiphoton microscopy
The Mai Tai HP provides more than 300 nm (690–1040 nm) in useable tuning range with over 2.5 W of average power and a pulse width of less than 100 fs.
Reliability
Reliability is maintained using proven, ultra-stable regenerative mode-locking. Using this method, the Mai Tai oscillator is capable of hands free, drop-out free wavelength tuning enabling speedy collection of excitation profiles all at the click of a mouse.

Real-time monitoring technology
StabiLok® real-time monitoring technology enhances system reliability by providing excellent beam pointing stability and minimal average power fluctuations, as well as eliminating wavelength drift.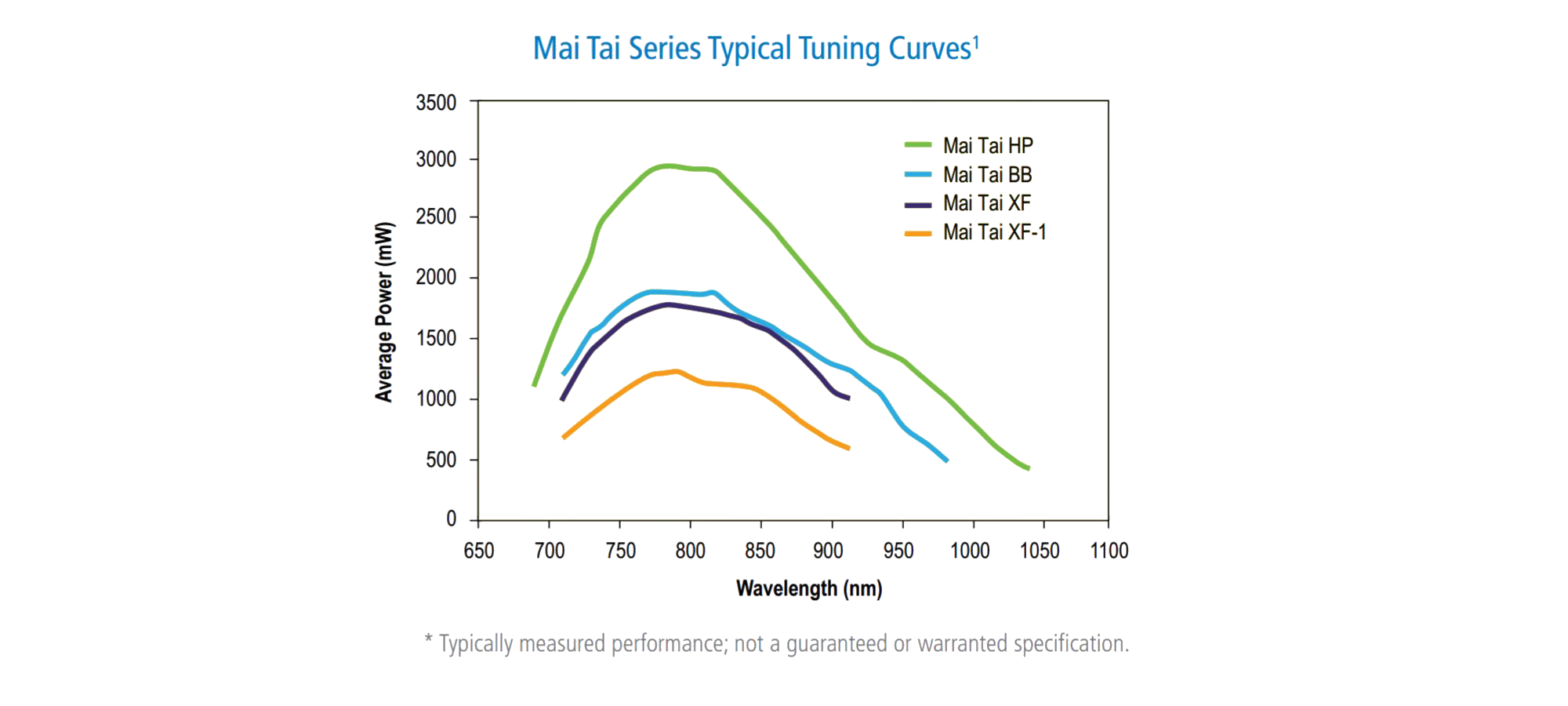 Applications
Multiphoton microscopy
Time-resolved photoluminescence
Non-linear spectroscopy
Optical computed tomography
Surface second harmonic generation
Terahertz imaging
Semiconductor metrology
Materials processing
Amplifier seeding
Pulse Width

Pulse Width

<100 fs
Tuning Range

Tuning Range

690–1040 nm
Average Power at 800 nm

Average Power at 800 nm

>2.5 W
Average Power, Alternative Wavelengths

Average Power, Alternative Wavelengths

>500 mW at 690 nm
>1.35 W at 710 nm
>1.35 W at 920 nm
>300 mW at 1040 nm
Beam Roundness

Beam Roundness

0.9–1.1
Astigmatism

Astigmatism

<10%
Repetition Rate

Repetition Rate

80 MHz ±1 MHz
Beam Pointing Stability

Beam Pointing Stability

<50 µrad/100 nm
Noise

Noise

<0.15%
Stability

Stability

<±1%
Spatial Mode

Spatial Mode

TEMoo, M2 <1.1
Polarization

Polarization

>500:1 horizontal
Beam Divergence

Beam Divergence

<1.2 mrad
Beam Diameter (1/e²)

Beam Diameter (1/e²)

<1.2 mm