CoolLED pE-300 White
CoolLED's pE-300-White is designed to offer broad-spectrum LED illumination for general use in fluorescence applications.

The pE-3000 White is a compact and simple to use LED illumination unit. It provides a broad spectrum of illumination, covering the excitation bands of common fluorescent stains. Operation is by a remote manual control pod with instant on/off and intensity control from 0-100%. Remote control is available via USB or TTL trigger.
As part of the pE-300 Series, the NEW Enhanced pE-300white now delivers DOUBLE the intensity at the microscope sample plane. It allows adjustment of output in 1% steps, giving precise control. The broad spectrum covers everyday fluorophores: DAPI, CFP, Aqua, FITC, TRITC, TxRed, Cy5 and many more.

As a replacement to a metal halide source on a confocal microscope, the liquid light guide configuration is particularly suitable for pre-aligning samples before scanning commences. In this way, photo bleaching of the sample can be minimised when LED illumination is used.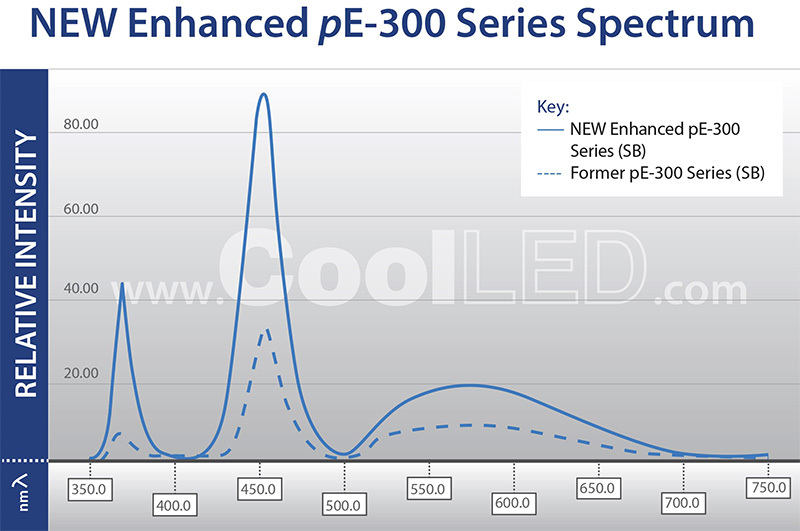 Benefits
Broad spectrum, high powered white illumination
Replaces metal halide or mercury
Simple to fit, simple to use
No alignment – once only adjustment
Instant on/off
No shutters required, no warm up or cool down
Excellent Field of View
Fixed and stable, no alignment necessary
High reliability and repeatability
Uses LEDs, not Mercury.
Long lifetime
No bulb replacement, alignment or disposal
Control pod for operation and access to settings and usage history
Manual:
Manual control for instant on/off and intensity control in 1% steps from 0 – 100%
Individual bands can be selected/deselected and controlled independently as desired
Remote:
Via single TTL for on/off control of selected channels using a BNC connection on the light source.
Triggering speed <20us
USB control
Light-Delivery
Direct-fit to a microscope
Specify from CoolLED's range of epi-fluorescent or transmitted port microscope adaptors
Liquid Light-Guide
1.5m long, 3mm diameter light-guide.
Environment & Safety
LED products are more sustainable and energy efficient than conventional illuminators. CoolLED's products have the following benefits:
Mercury-free
Energy Efficient: 80% less power
Long lifetime (25,000 operating hours)
No bulb replacements
Reduced risk of eye damage
Quiet operation
No special disposal regulations or issues
Warranty:
System = 36 months, LEDs = 36 months
Environment & Safety
LED products are more sustainable and energy efficient than conventional illuminators. CoolLED's products have the following benefits:
Mercury-free
Energy Efficient: 80% less power
Long lifetime (25,000 operating hours)
No bulb replacements
Reduced risk of eye damage
Quiet operation
No special disposal regulations or issues
Warranty:
System = 12 months, LEDs = 36 months
Power requirements

Power requirements

100-240V a.c. 50/60Hz, 2A
Power consumption

Power consumption

2W (standby), 80W (full white intensity)
Dimensions

Dimensions

Light Source

Light Source

77mm(w) x 186mm(d) x 162(h) - Weight 1.4kg
Control Pod

Control Pod

88mm(w) x 125mm(d) x 37mm(h) - Weight 0.32kg
Power Supply

Power Supply

167mm(w) x 67m(d) x 35mm(h) – Weight 0.62kg
pE-Universal Collimator

pE-Universal Collimator

44mm(w) x 86mm(d) x 44mm(h) – Weight 0.17kg