Introducing the revolutionary Scientifica VistaScope. The true premier solution for multiphoton imaging, with the largest-in-class field of view, allowing you to see more cells, more clearly than ever before. Discover more
Current Vacancies
Here is a list of our current opportunities. If you would like to apply please contact our recruitment team with your CV at [email protected]
If there's nothing on this list that is relevant to you but you would like to express an interest in joining our team, please get in touch at [email protected]
The legal bit – we are GDPR compliant and take our responsibilities in handling your personal information very seriously. Therefore, we ask all applicants and prospective applicants to read and sign our 'Privacy Notice for Job Applicants' when getting in touch with us.
Product Specialist - EMEIA
Are you looking for a role that involves using your specialist skills and knowledge to provide customers with a trusted and tailored solution? Are you an excellent communicator with field-based sales experience? We are hiring a Product Specialist to manage sales territories within the EMEIA region, progressing and closing sales through a consultative approach.
Download more details
What's on offer?
We are invested in our people and understand the importance of a healthy work-life balance. Scientifica offer a variety of perks & benefits which prove invaluable to our team members. Depending on where you are in the world, you would be entitled to some or all of the following when working with us:
Flexible Working Hours
Pension Scheme
Judges Scientific Share Incentive
Life Assurance / Death In Service
Generous Holidays & Buying Additional Holiday Scheme
Eyecare Vouchers
Free Tea, Coffee, Fruit
Free parking
Employee Discount Scheme
Employee Assistance Programme (EAP)
We offer learning, development and career opportunities to all our people – your own success is very much in your hands.
Work Experience, Internships and Apprenticeships
At Scientifica, we are passionate about developing people. Through work experience placements, internships and apprenticeships, we help both students and those at an early stage in their career develop the skills that will enable them to have a successful career in the future.
If you are interested in a work experience placement, internship or apprenticeship with Scientifica, please contact us at [email protected]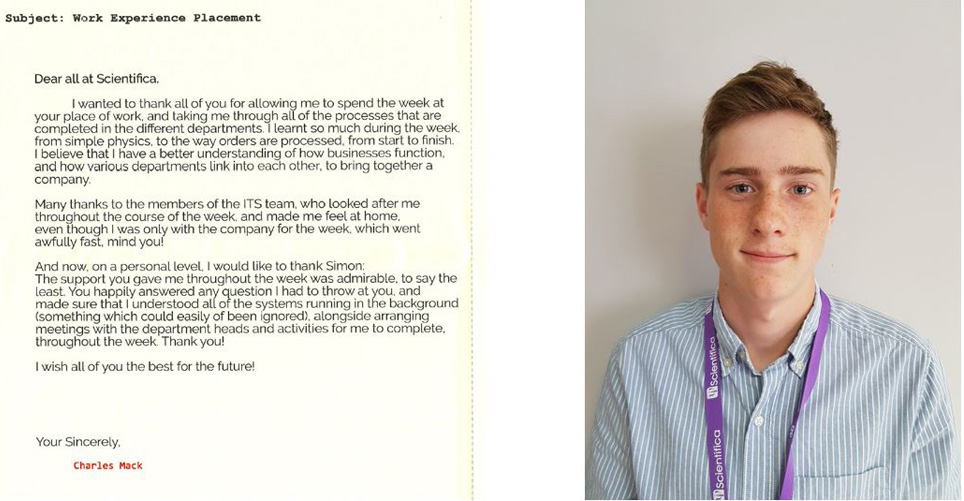 Careers fairs and STEM ambassador programme
We attend a number of careers fairs around the South East to give school and university students opportunities to meet us, find out about we do and discover the careers that are available to them.
Our involvement with the STEM Ambassador programme means we participate in a number of events throughout the year. Through engaging activities and talks, we inspire young people to progress further in Science, Technology, Engineering and Maths subjects.
If your school, college or organisation would like to benefit from the support of Scientifica STEM Ambassadors, please email [email protected] for more information.