Scientifica VistaScope presented prestigious award
Scientifica's latest addition to our modular portfolio of multiphoton imaging solutions, the VistaScope, has been judged one of the ten best microscopy innovations in the 2022 Microscopy Today Innovation Awards.
The largest in class field-of-view of the VistaScope, paired with high-resolution and even illumination, ensures that you can push your experimental boundaries to collect the highest quality data, needed to answer those novel research questions.
Co-Developers Roland Hadleigh, Engineering Continuous Improvement Manager and Dr Kelly Sakaki, Research & Development, accepted the award alongside Alex Murray, Head of Engineering and R&D and Matt Kemp, Managing Director.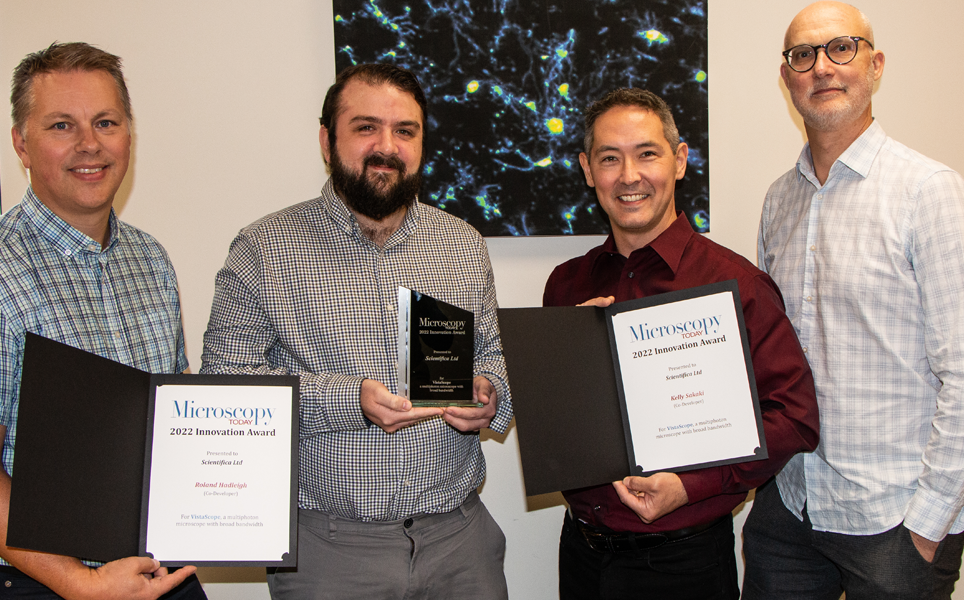 Each year Microscopy Today presents ten awards to organisations or individuals who have launched or published innovations in microscopy or microanalysis. Winning products and methods are selected based on their usefulness to the microscopy community and are those that provide better, faster, easier, or entirely new methods of analysis using a microscope or microanalytical instrument.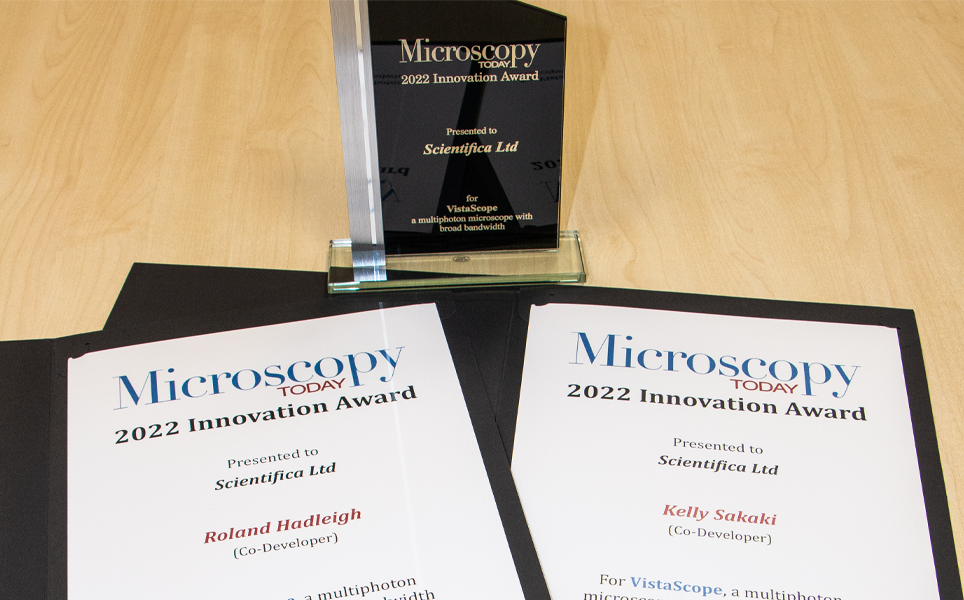 Matt Kemp, Managing Director
"I am extremely proud of the Scientifica team who have worked so hard on the design and build of the VistaScope. Our goal was to deliver the best Multiphoton System to enable researchers to extend their research capabilities by visualising more cells than ever before. Being listed as one of the best microscopy innovations of 2022 is a fitting acknowledgement of the work and dedication that so many people have worked towards.
We all look forward to seeing our customers and friends develop their research through the benefits that the VistaScope can bring them".

See more cells, more clearly than ever before
The Scientifica VistaScope enables researchers to see more cells simultaneously - in fact, twice as many cells - compared to its closest competitor. The impressive 40mm field number means entire #brain regions can be visualised.