Scientifica Multiphoton Detection Unit XL (MDU XL)
Scientifica's MDU XL is a multiphoton detection unit with increased sensitivity, designed to achieve a superior signal-to-noise ratio and improved image quality, translating to crisper and deeper images.

The MDU XL offers up to 35% more efficient light collection in multiphoton imaging experiments for up to two colours when compared to the standard MDU, when used with large back aperture objectives.
Features
Optimised for use with a range of large back aperture objectives, meaning the MDU XL enables collection of more scattered light for deeper tissue structures compared to the standard MDU.
The MDU XL can be fitted with two photomultiplier tubes (PMTs) for photon collection from two channels simultaneously.

Available with up to two gated or protected GaAsP PMTs for maximum sensitivity.

Customer acquired data
Expand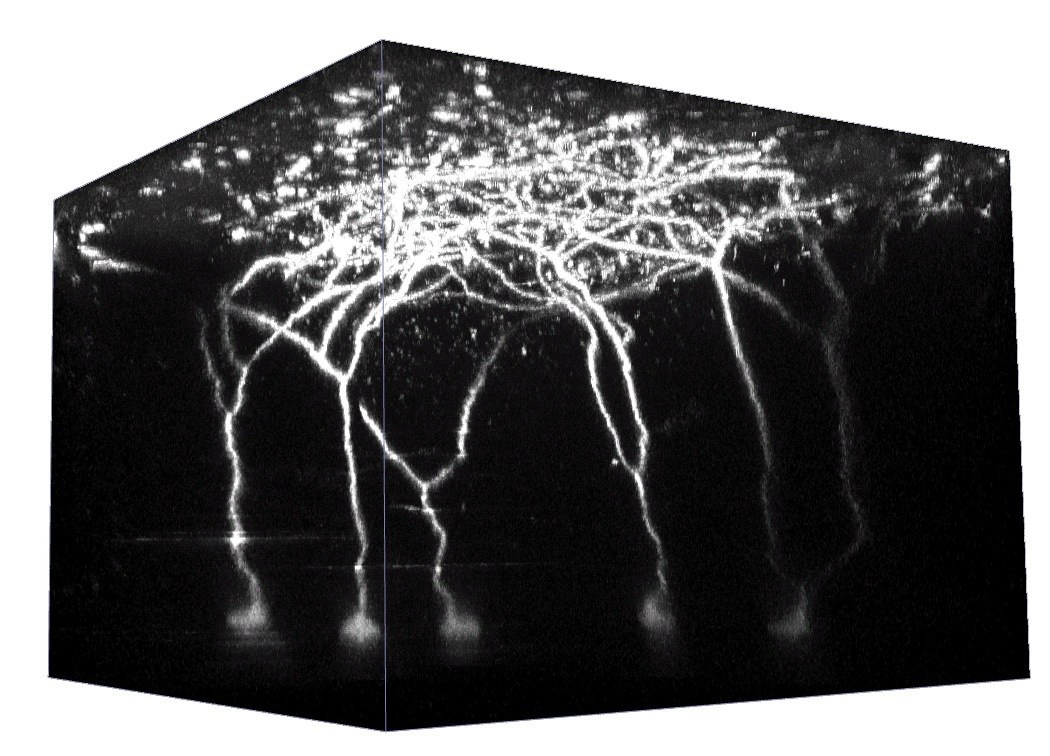 Layer V pyramidal neurons in the visual cortex expressing GCaMP6s, in vivo. The laser power was kept at a constant power level while increasing the imaging depth.

NOTE: fluctuations in intensity within a structure are caused by calcium transients during the image stack acquisition.
Three-photon capabilities
The MDU XL offers the ability to carry out three-photon imaging.
Below: mouse olfactory bulb, with neurons expressing GCaMP6. The blood vessels are labelled with Sulforhodamine. Despite the highly scattering properties of the olfactory bulb, with three-photon imaging we are able to clearly image through the dura down to the mitral cells with just 30 mW excitation power at 1320 nm.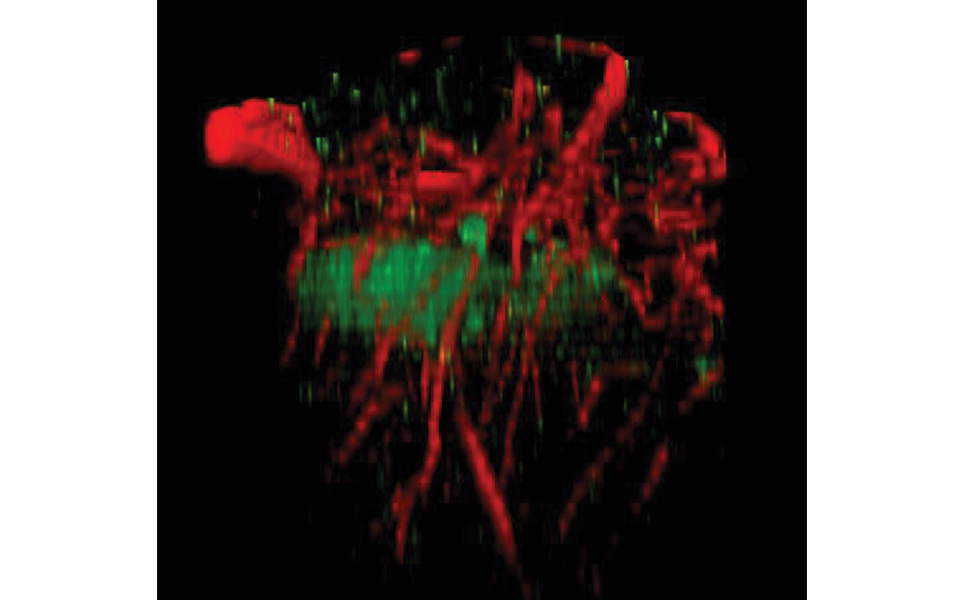 Design & Specifications
Collection Optics

Collection Optics

Primary Detection Dichroic: 60 x 40 x 1
Collection lens diameter: 45 mm
Maximum collection angle: ~±8° assuming 20mm objective back aperture
IR Blocking Filter: 680nm Shortpass 50mm Ø
Emission Filters

Emission Filters

Emission filter: 32mm Ø - one for each detector
Short wavelength perpendicular to the incident light, longer wavelength on the incident direction
Blocking filter: 32mm Ø for stimulation wavelength
Photomultiplier Tubes

Photomultiplier Tubes

Two locally mounted detectors of the same type: GaAsP protected photomultiplier tube (H10770PA-40) or GaAsP photomultiplier tube with gating function (H11706P-40)
Signal output Connector: SMA
Gate input connector (gated GaAsP only): BNC
Protection Circuitry

Protection Circuitry

Protected GaASP: Integrated protection circuitry to trip PMT when overload detected
Gated GaAsP: Voltage gating functionality to avoid overload situations
All systems: Ambient light detector
Objective and Nosepiece Compatibility

Objective and Nosepiece Compatibility

Objectives: M32, M27, M25, RMS threaded objectives (<20mm back aperture)
Nosepieces: Ships with single objective changer with 2 locking sliders
Compatible with: WI-SRE3 adapter (RMS only) or standard/DIC objective sliders
Preamplifier Bandwidth

Preamplifier Bandwidth

Options include: 20 MHz (resonant system), 1 MHz (galvo), or variable bandwidth all with low noise linear power supply
Output Connection

Output Connection

BNC
PMT Voltage Control

PMT Voltage Control

Manual or software control
PMT Protection

PMT Protection

Integrated protection circuitry in H10771P-40 only. For all PMT options, a remote ambient light sensor is used
Schematics
Expand