The HyperScope multiphoton imaging system now has advanced imaging capabilities; the introduction of an extended wavelength lens set means you can image deeper and through thin scattering layers in in vivo samples. Learn more here.
Scientifica FLIM Upgrade Kit
The Scientifica FLIM upgrade kit is an integrated and flexible Fluorescence Lifetime Imaging solution. When installed on a Scientifica multiphoton microscope, the FLIM upgrade enables simultaneous fluorescence intensity and fluorescence lifetime imaging, in up to two colour channels, using the versatile Picoquant TCSPC system.
By combining the high temporal resolution of intensity imaging with the detailed information on chemical environment provided by fluorescence lifetime imaging, highly quantitative data can be acquired.

Applications
FRET
• For the measurement of molecular interactions
• For quantification of biosensor measurements
• FLIM is the gold-standard for measuring FRET
• Straightforward access to FRET efficiency and fraction, with no need for acceptor photobleaching, or sets of multiple calibration images
Measurement of absolute ion concentrations

• Ratiometric calcium imaging using non-ratiometric indicators such as OGB-1
• Chloride measurements using quinine-based indicators such as MQA or MEQ
• pH measurements
Alternative contrast

• Separate labelling with spectrally similar dyes
• Add meaningful contrast to (not just) autofluorescence imaging
• Contrast that is not dependent on dye concentration, but functional state
Comparison of maximum intensity and FLIM images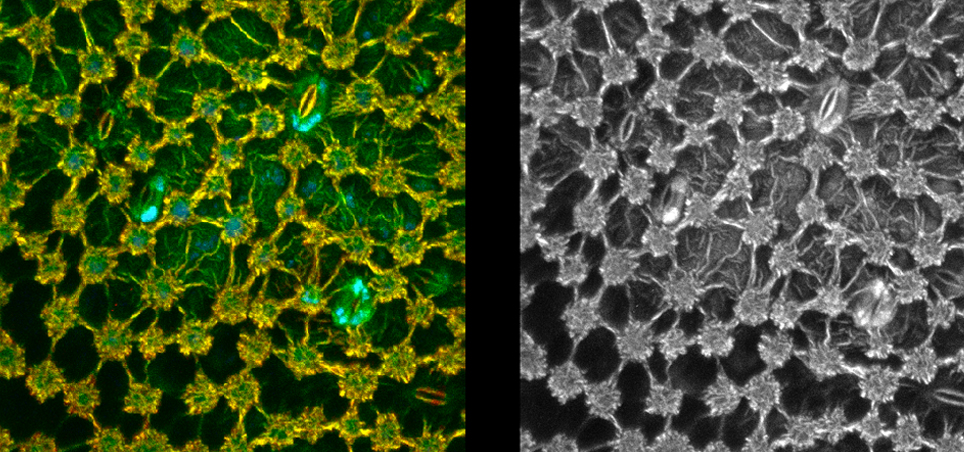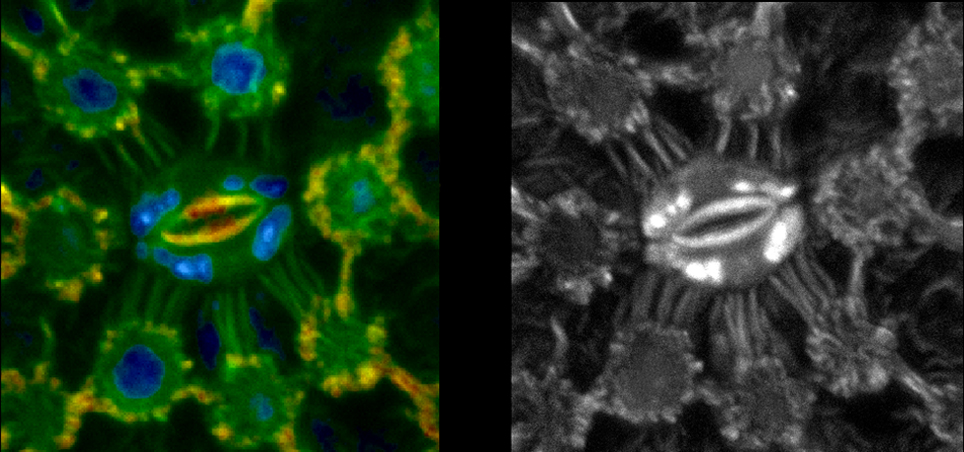 Design & Specifications
TCSPC Hardware

TCSPC Hardware

High time resolution pack: PicoQuant TimeHarp 260 Pico
Fast counting pack: PicoQuant MultiHarp 150
TCSPC time resolution and peak count rates

TCSPC time resolution and peak count rates

High time resolution pack: 25 ps, 40 MCounts/s
Fast counting pack: 80 ps, 1.5 GCounts/s
Software

Software

Intensity imaging: Scanimage 5/2016 or later
FLIM imaging: PicoQuant SymphoTime 64
Scanning modes

Scanning modes

Galvo: Mono- and bidirectional
Resonance: Only monodirectional
Detectors

Detectors

One or two hybrid detectors (PicoQuant PMA-Hybrid), each with an SMA output connector
Detector voltage control

Detector voltage control

Fixed, and set internally for optimal photon-counting efficiency
Intensity imaging detection

Intensity imaging detection

Analogue photon counting
Emission filters

Emission filters

25 mm Ø - one for each detector
Laser requirements

Laser requirements

Ultrafast pulsed laser, with a repetition rate of 80 MHz or less
Objective and Nosepiece Compatibility

Objective and Nosepiece Compatibility

Objectives: M32, M27, M25, RMS threaded objectives (<20mm back aperture)
Nosepieces: Ships with single objective changer with 2 locking sliders