Spectra-Physics Mai Tai HP DeepSee
The Mai Tai® DeepSee™ Ti:Sapphire oscillator with Spectra-Physics' patented automated dispersion compensation has been specifically optimized for use in multiphoton microscopy. The Mai Tai DeepSee laser delivers the industry's highest peak power to the sample thus maximizing the fluorescence signal.
For more information, please visit http://www.spectra-physics.com


An average power of over 2.4W
The Mai Tai DeepSee laser offers over 2.4 W of average power and 350 nm (690-1040 nm) in useable tuning range. For access to longer wavelengths beyond 1040 nm, Spectra-Physics offers InSight DS+ with the widest tuning range (680-1300 nm) for deepest in vivo imaging

Reliability
The Mai Tai DeepSee oscillator's reliability is maintained through the ultra-stable regenerative mode locking technique developed by Spectra-Physics. With hands free, drop-out free wavelength tuning, excitation profiles can be quickly collected with just the click of a mouse

Real-time monitoring technology
StabiLok® real-time monitoring technology also enhances system reliability by providing excellent beam pointing stability and minimal average power fluctuations, as well as eliminating wavelength drift.
Deeper penetration depths
With the Mai Tai DeepSee oscillator, deeper penetration depths can be achieved without the risk of sample damage from increased average powers. Whenever ultrafast laser pulses are transmitted through optical materials (i.e. windows, lenses, and non-linear crystals), the added dispersion lengthens the pulse width. This pulse lengthening has a negative affect on the fluorescence signal obtained. The Mai Tai DeepSee option corrects in advance for the optical setup dispersion through pre-compensation, which maximizes the observed fluorescence signals. If the danger of sample damage prevents the average power from being increased, then delivering the highest peak power is the only way to increase the fluorescence.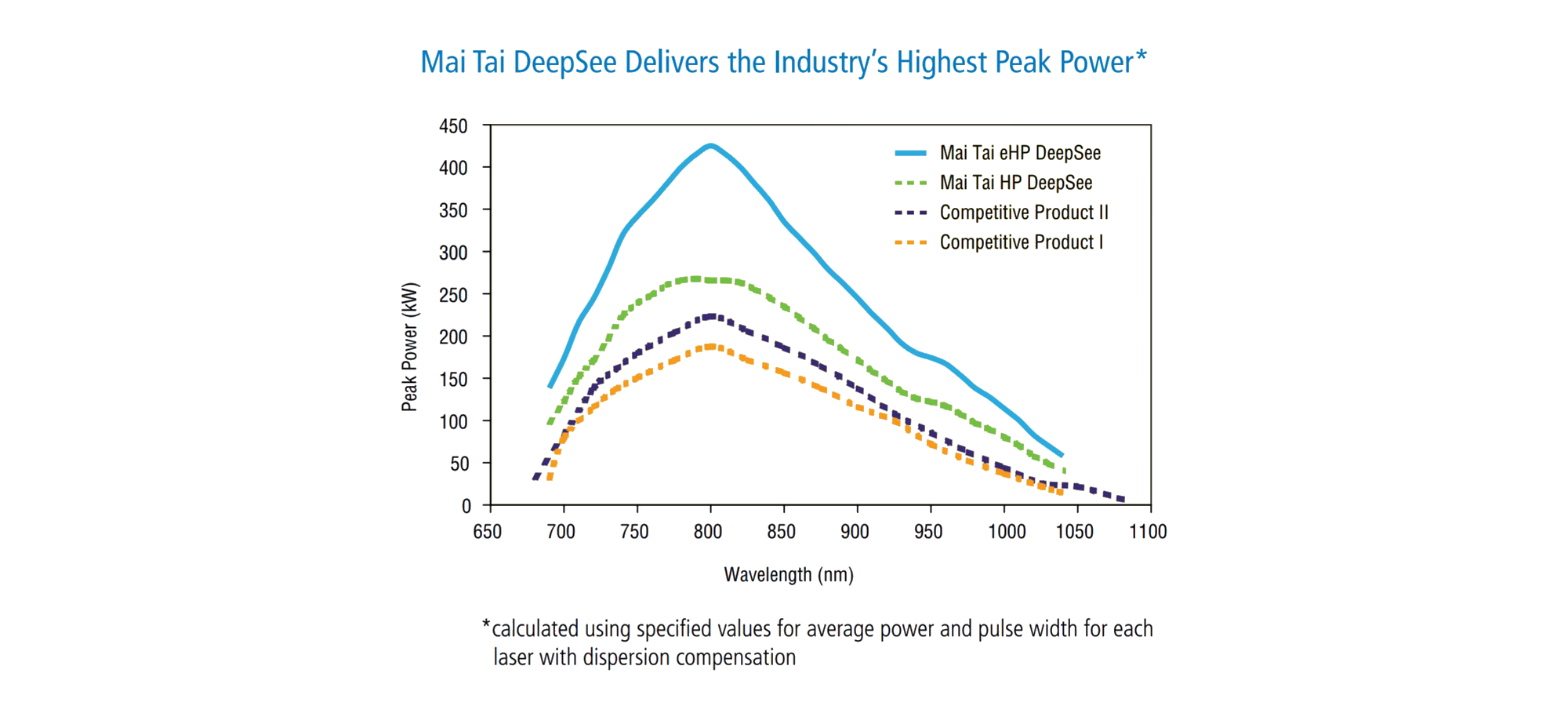 Applications
Multiphoton microscopy
Time-resolved photoluminescence
Non-linear spectroscopy
Optical computed tomography
Surface second harmonic generation
Terahertz imaging
Semiconductor metrology
Materials processing
Amplifier seeding
Peak Power (applies to 800 nm only)

Peak Power (applies to 800 nm only)

>266 kW
Pulse Width

Pulse Width

<100 fs
Tuning Range4

Tuning Range4

690–1040 nm
Average Power (applies to 800 nm only)

Average Power (applies to 800 nm only)

>2.1 W
Peak Power, Alternative Wavelengths

Peak Power, Alternative Wavelengths

>56 kW at 690 nm
>150 kW at 710 nm
>150 kW at 920 nm
>34 kW at 1040 nm
Beam Roundness (applies to 800 nm only)

Beam Roundness (applies to 800 nm only)

0.9–1.1
Astigmatism (applies to 800 nm only)

Astigmatism (applies to 800 nm only)

<25%
Repetition Rate

Repetition Rate

80 MHz ±1 MHz
Beam Pointing Stability

Beam Pointing Stability

<50 µrad/100 nm
Noise

Noise

<0.15%
Stability

Stability

<±1%
Spatial Mode (applies to 800 nm only)

Spatial Mode (applies to 800 nm only)

TEMoo, M2 <1.1
Polarization (applies to 800 nm only)

Polarization (applies to 800 nm only)

>500:1 horizontal
Beam Divergence (applies to 800 nm only)

Beam Divergence (applies to 800 nm only)

<1.2 mrad
Beam Diameter (1/e²) (applies to 800 nm only)

Beam Diameter (1/e²) (applies to 800 nm only)

<1.2 mm
Standard Dispersion Compensation Range

Standard Dispersion Compensation Range

690 nm: -22,500 fs2 to -41,700 fs2
800 nm: -8,900 fs2 to -24,500 fs2
1040 nm: 0 fs2 to -9,600 fs2
Neuronal network activity controls microglial process surveillance in awake mice via norepinephrine signaling
bioRxiv preprint
View paper
Mammalian olfaction is a high temporal bandwidth sense
bioRxiv preprint
View paper