The HyperScope multiphoton imaging system now has advanced imaging capabilities; the introduction of an extended wavelength lens set means you can image deeper and through thin scattering layers in in vivo samples. Learn more here.
Spectra-Physics Mai Tai eHPDS
The Mai Tai® eDeepSee™ Ti:Sapphire oscillator with Spectra-Physics' patented automated dispersion compensation has been specifically optimized for use in multiphoton microscopy.

For more information, please visit http://www.spectra-physics.com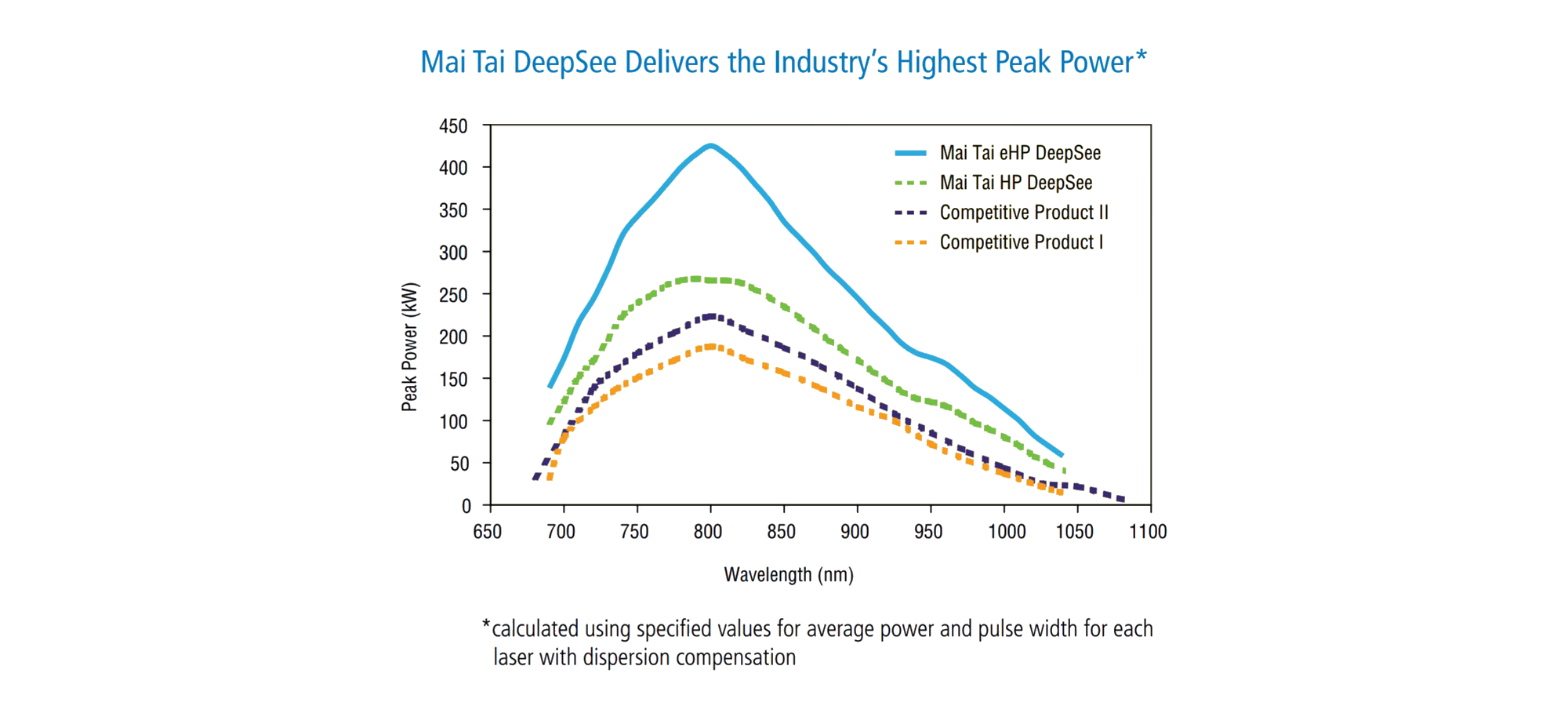 Applications
Multiphoton microscopy
Time-resolved photoluminescence
Non-linear spectroscopy
Optical computed tomography
Surface second harmonic generation
Terahertz imaging
Semiconductor metrology
Materials processing
Amplifier seeding
Peak Power2

Peak Power2

>425 kW
Pulse Width

Pulse Width

<70 fs
Tuning Range

Tuning Range

690–1040 nm
Average Power

Average Power

>2.4 W
Peak Power, Alternative Wavelengths

Peak Power, Alternative Wavelengths

>56 kW at 690 nm
>217 kW at 710 nm
>217 kW at 920 nm
>34 kW at 1040 nm
Beam Roundness2

Beam Roundness2

0.9–1.1
Astigmatism

Astigmatism

<25%
Repetition Rate2

Repetition Rate2

6 80 MHz ±1 MHz
Beam Pointing Stability

Beam Pointing Stability

<50 µrad/100 nm
Noise

Noise

<0.15%
Stability

Stability

<±1%
Spatial Mode

Spatial Mode

TEMoo, M2 <1.1
Polarization

Polarization

>500:1 horizontal
Beam Divergence

Beam Divergence

< 1.2 mrad
Beam Diameter (1/e²)

Beam Diameter (1/e²)

<1.2 mm
Standard Dispersion Compensation Range

Standard Dispersion Compensation Range

690 nm: -22,500 fs2 to -41,700 fs
800 nm: -8,900 fs2 to -24,500 fs
1040 nm: 0 fs2 to -9,600 fs