Scientifica SciScan
Award-winning two-photon acquisition software designed and built by Scientifica in collaboration with researchers.
Control both galvo and resonant scanning systems for both in vivo and in vitro imaging applications.

Design & Specifications
Frame rate

Frame rate

up to ~50fps with the galvo scan head (200x50 pixels)
up to ~248fps with the resonant scan head (1024x64 pixel)
Triggers

Triggers

TTL OUT channels (sample clock, pixel clock, line clock, frame clock) for accurate synchronization with external equipment
TTL IN for triggering a recording from external equipment
Channels

Channels

Up to 4 PMT channels
Laser intensity control

Laser intensity control

Integrated intensity control (using a Pockels cell or a motorised half-wave plate)
Volume Scanning

Volume Scanning

Fast volume scanning using a piezo objective positioner
Standard scan modes

Standard scan modes

Frame scan, Z-stacks, line scan
Other modes

Other modes

ROI Monitoring
Advanced modules

Advanced modules

Position Save Module for chronic in-vivo imaging enables users to save multiple recording locations and quickly find the same locations again days or weeks later
SciScript - intuitive user interface for creating pre-programmed sequences and loops of frame scans, recordings
Award-Winning Software
Our multiphoton laser scanning microscopy software has been judged as one of the ten best innovations in the 2016 Microscopy Today Innovation Awards.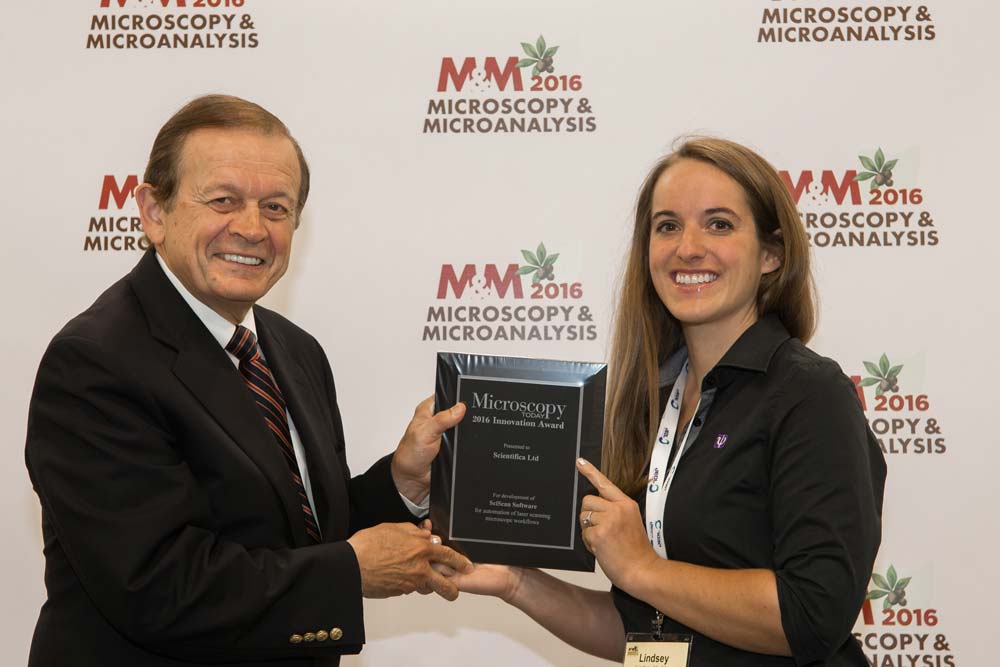 Research Papers
Expand
Schuck, R., Go, M., Garasto, S., Reynolds, S., Dragotti, P. and Schultz, S. (2018). Multiphoton minimal inertia scanning for fast acquisition of neural activity signals. Journal of Neural Engineering, 15(2) https://doi.org/10.1088/1741-2552/aa99e2
Steck, K., Walker, S., Itskov, P., Baltazar, C., Moreira, J. and Ribeiro, C. (2018). Internal amino acid state modulates yeast taste neurons to support protein homeostasis in Drosophila. eLife, 7 https://doi.org/10.7554/eLife.31625.001