The HyperScope multiphoton imaging system now has advanced imaging capabilities; the introduction of an extended wavelength lens set means you can image deeper and through thin scattering layers in in vivo samples. Learn more here.
Hamamatsu Orca Flash4.0 LT Plus
With established performance and an affordable price, the newly re-designed ORCA-Flash4.0 LT PLUS featuring 82% peak quantum efficiency fits into any experiment that needs simple connectivity, moderately fast frame rates, and great sensitivity.

The ORCA-Flash4.0 LT PLUS is designed to bring all the advantages of sCMOS technology—wide field of view, low-light sensitivity, and large dynamic range—to every research lab. Easy connectivity and powerful performance help you explore your pressing biological questions. Think of all that LT PLUS can help you discover.
Quantum Efficiency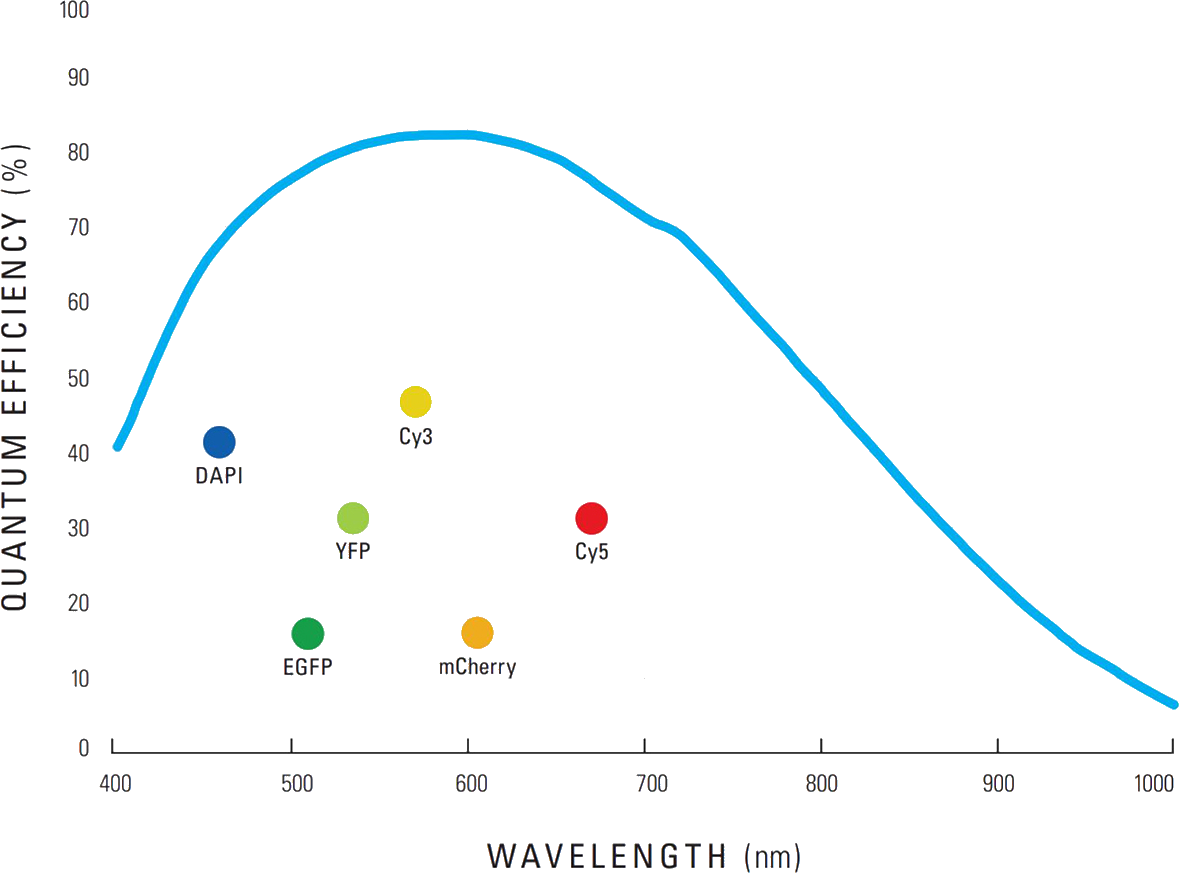 Type number

Type number

C11440-42U30
Quantum efficency

Quantum efficency

82 % @ 560 nm
Imaging device

Imaging device

Scientific CMOS image sensor
Effective no. of pixels

Effective no. of pixels

2048 (H)×2048 (V)
Cell size

Cell size

6.5 μm×6.5 μm
Effective area

Effective area

13.312 mm×13.312 mm
Full well capacity

Full well capacity

30 000 electrons
Readout speed

Readout speed

30 frames/s
Readout noise

Readout noise

1.5 electrons (rms)
Cooling temperature

Cooling temperature

0.9 electrons (median)
Dark current

Dark current

0.6 electrons/pixel/s (typ.) (Air cooled, Cooling temperature: +10 °C)
Dynamic range

Dynamic range

33 000:1 (typ.)
Sub-array

Sub-array

Yes
Binning

Binning

2×2, 4×4
External trigger input

External trigger input

Edge, Level, Synchronous readout, Start trigger
Global reset (Edge/Level)
W-View mode with different exposure time (Edge/Start)
Trigger output

Trigger output

Global exposure output, Trigger ready output
Output Signal Ports (3)
Continuous High/Low output
Multi-channel sync
Interface

Interface

USB 3.0
A/D converter

A/D converter

16 bit
Lens mount

Lens mount

C-mount