The HyperScope multiphoton imaging system now has advanced imaging capabilities; the introduction of an extended wavelength lens set means you can image deeper and through thin scattering layers in in vivo samples. Learn more here.
SciScan 1.3 now available
---
Scientifica is pleased to announce the release of the latest version of SciScan, our award-winning control and acquisition software for laser scanning microscopes. This version introduces a number of new features, including a photostimulation module as well as minor bug fixes to improve the stability and functionality of current features.
Multi-Scanner oriented:
Optimised for the use with the Scientifica HyperScope, SciScan 1.3 supports microscopes with three scanning mirrors. On these systems, it allows quick switching between resonance and galvo imaging. The newest version of SciScan also provides support for a second scan path, which is commonly used for photostimulation.
Photostimulation:
This module allows HyperScope's second beam path to be used for multiphoton photostimulation. Photostimulation can be utilised as stand-alone or simultaneously with imaging. Stimulation protocols, both importable and exportable, can be effortlessly set up, allowing stimulation of points, groups of points and repetitions of stimulations, with the user having full control over the stimulation parameters.
This module is available for all systems with a Galvo imaging or photostimulation path. For single beam path systems.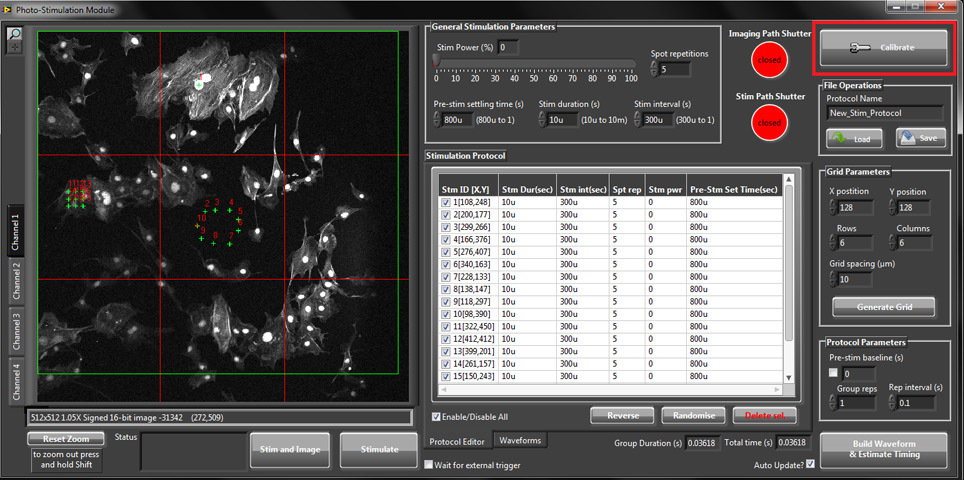 A screenshot of the photostimulation module. See the SciScan Knowledge Base for more info.
Calibration Module:
To fully benefit from the HyperScope dual path system, this module enables simultaneous imaging and photostimulation by registering the photostimulation path to the imaging path. Imaging can be performed with either the Galvo or Resonant Scan Engine, depending on the hardware.
Optional plugins:
Artificial motor - Decouples the motor from SciScan, allowing piezo scans to be defined from SciScan while the motors are in use by other software, such as LinLab.
KR module – A simplified version of the Position save module.
Replay logger – A debugging tool used to log user/software interactions.
Piezo Z-positioning module – Allows the Piezo to be used to set up a slow volume scan.
For a full list of changes, including minor alterations and bug fixes, please create an account on the SciScan Knowledge Base.
SciScan won a Microscopy Today Innovation Award in 2016, after being judged as one of the ten best innovations.
Find out about Scientifica's latest product releases, company news, and developments through a range of news articles, customer interviews and product demonstration videos.