Scientifica opens its second Centre of Excellence
---
At Scientifica, we are proud to announce the opening of our second Centre of Excellence in the Hershey lab at Cold Spring Harbor Laboratory on Long Island, New York.
The Centre of Excellence is home to our HyperScope, our most advanced multiphoton imaging system yet. The HyperScope enables simultaneous two-photon microscopy and photostimulation in samples in vitro or in vivo. Our system is accompanied by an InSight DeepSee Spectra-Physics laser.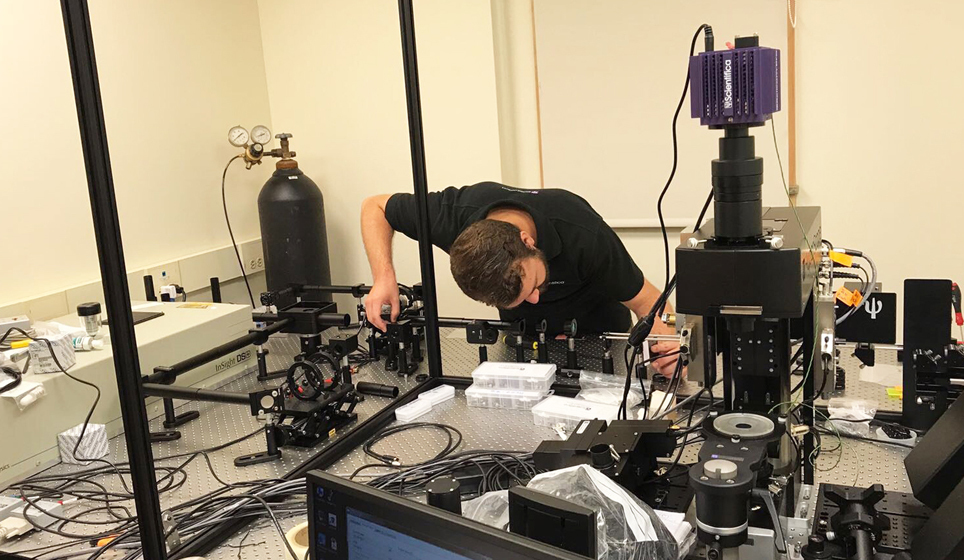 The Scientifica Centre of Excellence means we can continue giving to the scientific community by providing a system all year round.

The opening of our Centre of Excellence follows on from the support we give to several courses that take place at Cold Spring Harbor, through the provision of specialist equipment, including Imaging Structure & Function in the Nervous System, Drosophila Neurobiology: Genes, Circuits & Behaviour and Ion Channels in Synaptic and Neural Circuit Physiology.
"We are very excited and honoured to be part of the courses held at Cold Spring Harbor. It's great seeing students, instructors and organisers from around the world coming together for research and education."
Nancy Manik, Product Specialist.
"Setting up a Centre of Excellence at CSHL is extremely exciting to us. There has always been a real sense of collaboration when it comes to working with the courses and it is very much a two-way relationship. We are delighted to be able to develop this relationship further by establishing a Centre of Excellence at CSHL.

Our flagship product - the HyperScope Multiphoton Imaging System will have year-round presence in the lab. This will expose researchers and students from all over the world to new applications and functionality, which they can incorporate into their own labs to help advance their scientific fields."
Phil Golding, General Manager, North America.
We interviewed Dr. David Stewart, the Executive Director of the Cold Spring Harbor Laboratory Meetings and Courses, about the support we provide. David commented that:
"The Scientifica Centre of Excellence and HyperScope will be an invaluable resource".
Watch the full video:
Earlier in the year, we opened our first Centre of Excellence in the Neurophotonics Centre in Quebec, Canada, associated with Université Laval.