Scientifica Career Insights: Steph South, People Services Specialist
---
Learn how Steph has progressed at Scientifica over the last five years and how her role involves working with all departments within Scientifica. Steph shares how she has adapted to mostly communicating with colleagues over virtual platforms, and how she ensures regular conversations happen in order to generate new ideas.
Can you describe a normal day at work prior to the Covid-19 pandemic?
I don't think I could describe a normal day, I'm incredibly lucky to have a varied role which means no one day is ever really the same. I have a number of tasks relating to People, Health and Safety and Facilities which are usually set on certain days but a lot of the time I couldn't tell you what I was going to walk into!
What do you enjoy most about your role?
I love the opportunities I have to work with most departments in some way or another, whether that be for learning and development, recruitment, or making their environment safe and comfortable.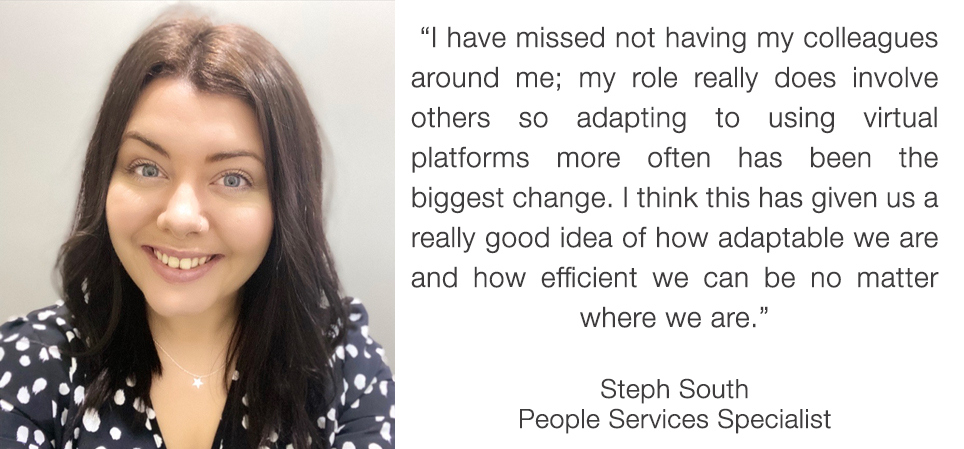 How has your role developed during your working career/while working at Scientifica?
Almost five years ago I joined Scientifica as a part-time Office Administrator, since then my role has shifted a few times, where I have been given the opportunity to develop my skills and knowledge. From Facilities Co-ordinator, to adding health and safety, and now as People Services Specialist where my sole focus is all things people experience.
How has your way of working changed this year?
Due to the nature of my role, I have been very fortunate (in my opinion) to be able to work from the office all year. I have missed not having my colleagues around me; my role really does involve others so adapting to using virtual platforms more often has been the biggest change.
What lessons have you learnt since remote working began?
Whilst I haven't been working remotely, most of my colleagues have which has made me realise how much we need physical social interactions. It has also shown the value and importance of spontaneous conversations that bring about new ideas, which are more difficult when we are communicating virtually.
I've also learnt that we are an incredibly flexible team; we have all faced challenges in one way or another, but we have continued to work and live in the best ways we can and remained as positive as we can.
How has your department adapted to the new ways of working?
I have only seen my boss once since March, and it's been quite difficult because we are very close in the way we work; ideas are always flowing and it was much easier being able to discuss them when I was just outside her office! Now though, we schedule a lot of virtual time for different things and make sure to constantly keep the conversation going. The time has given us the opportunity to develop new ideas and start new projects, which is a bonus.
Do you think any of the changes will be here to stay?
Yes, many of my colleagues like to work from home and I think many will choose to work remotely a couple of days a week at least. At Scientifica we are always looking at how we make work, work for us, and I think this has given us a really good idea of how adaptable we are and how efficient we can be no matter where we are.
What are you looking forward to about returning to more 'normal' ways of working? E.g. visiting the office, labs, conferences
I'm really looking forward to having some buzz around the office again, the people at Scientifica are great and I miss their friendly faces!
Find out about Scientifica's latest product releases, company news, and developments through a range of news articles, customer interviews and product demonstration videos.