Scientifica Career Insights: Michael Bale, Application and Support Engineer
---
Michael provides insight into his varied and fast-paced role, which involves supporting customers, pre-installing and testing microscopes. He shares how he has used platforms such as TikTok and WhatsApp to create instructional videos and make support calls, and what changes he thinks could be here to stay.
1. Can you describe a normal day at work prior to the Covid-19 pandemic?
Working as an Application and Support Engineer means my "normal" day is split into many different tasks. The main theme of my work involves helping current Scientifica customers get the best out of their systems. Another part of my role is to look at the best options available to fulfil the experimental requirements of new customers. A final task is to assist other parts of the company by testing new products or installing microscopes for quality control before shipping.
2. What do you enjoy most about your role?
The best things about my role is the variety and pace. Rarely is there a day with the same task to work on and we strive for actions to be completed as quickly as possible at the best quality achievable. If something isn't optimal on a customer's microscope, downtime needs to be minimised and so action is required as soon as possible. Every task is a priority so it is intense work every minute of the day with new cases coming in unpredictably.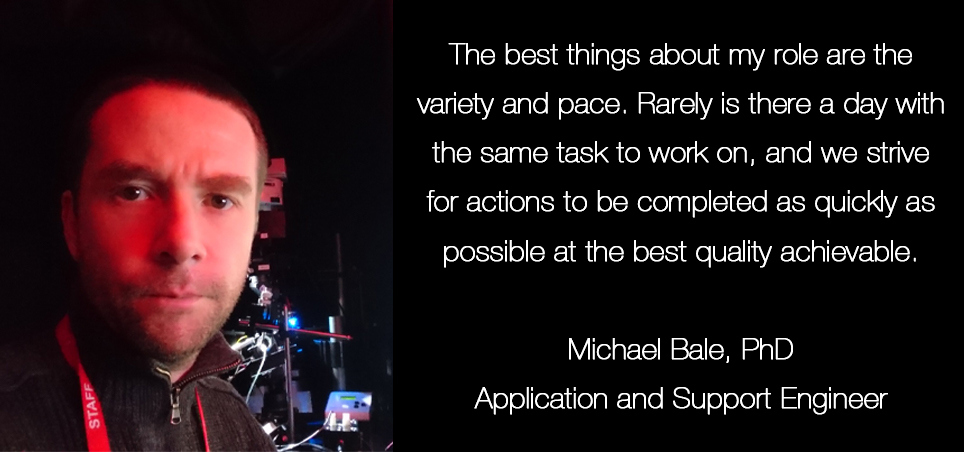 3. How has your role developed during your working career/while working at Scientifica?
I actually have not been with Scientifica that long despite having some involvement with Scientifica products since 2004, starting with electrophysiology equipment and more recently multiphoton microscopes. I am part of a small team so initially I have been becoming more familiar with current Scientifica products and trying to equilibrate the workload with my extremely talented team members. Now that I am more familiar with the range of Scientifica systems, and have participated in building them, I can apply this knowledge to approving technical aspects of quotes and tenders.
4. How has your way of working changed this year?
Working from home occasionally was an incentive when I first joined the company. I never expected it to be mandatory three months later. Weirdly enough, I started communicating with colleagues more than when I was face-to-face with them. Even now I am back in the office, the level of interaction has been maintained with my immediate service and support team and across the whole company.
5. What lessons have you learnt since working remotely?
How to make a custom background on Microsoft Teams. And seriously now, the main lessons have all remained around communication. Excluding the manufacturing, installation and engineering side of things, Scientifica was already work from home ready. Despite this, the use of messaging and video services have dramatically increased. My dependence on email is now much less having learnt that for a simple message a phone call could be much quicker. The mainstream software like Teams, Zoom and Skype are still in use but I have even made instructional videos on TikTok and performed support calls via WhatsApp.
6. How has your department adapted to the new ways of working?
The System Support team and Service Support team now work much closely together and even share our caseloads. This spreads the knowledge both teams have and means that customers can get the support they need even sooner.
7. Do you think any of the changes will be here to stay?
The ways we communicate amongst colleagues will remain the same for several months to come. In a year or so, I do not believe things will be exactly as they were before 2020 and we will settle to some midground, possibly even if a successful vaccine is developed. Even though I did it, I never understood why shaking someone's hand was important. For Scientifica, I expect the frequency of visits to labs may decrease but I imagine the quality of those activities will increase. I am happy to say, from most video calls with customers I have seen good social distancing measures and I have no concerns about visiting labs. I am currently finalising plans trying to reach a handful of customers to service their systems and perform training within the UK and in Europe.
8. What are you looking forward to about returning to more 'normal' ways of working?
I am fortunate enough to have, on the most part, returned to normal working practices whilst following Covid-secure procedures. One of my main tasks is to build and test new microscopes before shipping to the customer and this has been something I have missed. As movement restrictions ease, I am hopeful that I will be able to install one of these systems in situ. There is only so much I can do with my children's building blocks.
Take a look at our other Career Insights case studies
There are more to come over the next few weeks!
Find out about Scientifica's latest product releases, company news, and developments through a range of news articles, customer interviews and product demonstration videos.