Scientifica Career Insights: Marco Navarro, North America Product Associate
---
In the first of Scientifica's Careers Insights series, Marco shares what he enjoys most about his varied role, how his role has changed during the Covid-19 pandemic and how he has adapted to new ways of working.
Can you describe a normal day at work prior to the Covid-19 pandemic?
My role involves traveling to labs for sales and some service visits. On a week where I'm on a visit, I'm up early answering emails and reviewing campus maps. Then I head off for my early appointments. Depending on the campus, I'd try to see as many people as I could schedule in the morning. This ranges from new PI's setting up a lab, checking in on the grad students working on Scientifica rigs, or talking to Postdocs about career prospects. I try to schedule in an hour break for lunch with some time to transcribe notes, but that doesn't always happen. If there's a quick service visit, I try to set it up for the afternoon, so I don't have to duck out early and can finish when needed. Afterwards, I'm finding some good food, hopefully somewhere someone recommended, finishing writing my notes and potentially working out depending on how much energy I have left.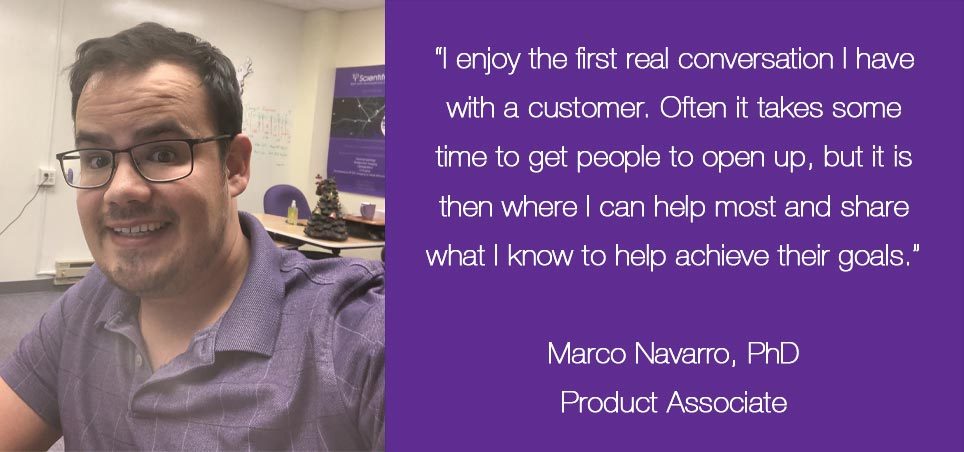 What do you enjoy most about your role?
I would say I enjoy the first real conversation I have with a customer. Often it takes some time to get people to open up, but it is then where I can help most and share what I know to help achieve their goals.
How has your role developed during your working career/while working at Scientifica?
My role has been quite dynamic and It's also been changing based on needs. Having the ability to schedule a quick service/installation and then being able to plan sales trips around them and vice versa is quite useful and makes for an interesting work schedule. If a customer really needs to get something fixed and I'm the best option, I'm happy to take the opportunity. I also enjoy the sales training and developing other aspects of my career.
How has your way of working changed this year?
The main difference is not traveling and going out to see customers. Working from home for at least six months has been a challenge to adjust to, as with everything. As people began working from home and being used to video calls, it has been much easier and fun to set up video calls for various conversations. And you can't really beat the short commute.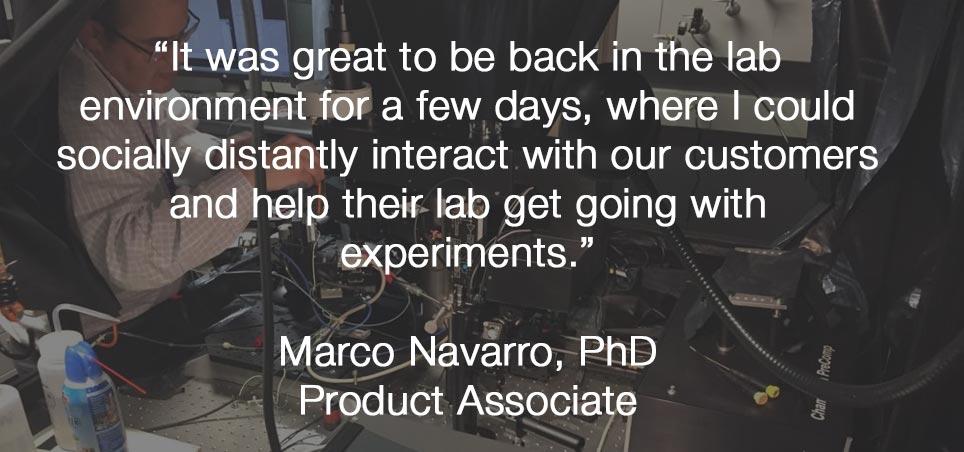 What lessons have you learnt since working remotely?
As there aren't the other routines of the office, I've recently tried out using timers for various tasks, although not every task. Say I want to spend time focused on reaching out to customers in a part of my territory, just setting a 45-minute timer to purely focus on one thing has greatly increased my productivity.
How has your department adapted to the new ways of working?
The biggest thing has been using Teams to video chat customers and colleagues. Prior to the pandemic, we used it off and on; but since March 2020, I've had multiple Teams calls every day. Prior to that, it was harder to convince people to set up a video call and we mainly used phone calls. It's interesting how quickly it has changed the culture of how we communicate.
Do you think any of the changes will be here to stay?
I think the handshake will slowly start to fade from our culture and we will come to terms with some other gesture.
What are you looking forward to about returning to more 'normal' ways of working?
I've started to have a taste of being back in a lab again, as I've taken precautions and quarantined to perform some installations. It was great to be back in the lab environment for a few days, where I could socially distantly interact with our customers and help their lab get going with experiments. It was nice to also just be outside of my apartment for a few days and interact with people face-to-face, albeit masked faces.
Take a look at our other Career Insights case studies
There are more to come over the next few weeks!
Find out about Scientifica's latest product releases, company news, and developments through a range of news articles, customer interviews and product demonstration videos.