Scientifica Career Insights: Gus Wauters, Product Specialist
---
Gus shares how working from home can increase efficiency and help maintain a healthy work-life balance. He discusses how video calls with customers are an effective way to communicate, and shares the regions he is looking forward to visiting when he is able to travel again.
Can you describe a normal day at work prior to the Covid-19 pandemic?
---
The daily focus for a Product Specialist is continuous management of sales opportunities and providing customers with a clear path of communication with Scientifica. As a result, a good portion of my day is spent tracking and updating information on our database to maintain the territory strategy for our accounts. In parallel to this, emails and phone calls are being exchanged with customers throughout the day. These can vary from qualifying new leads, to following up existing opportunities at various stages of the buying cycle.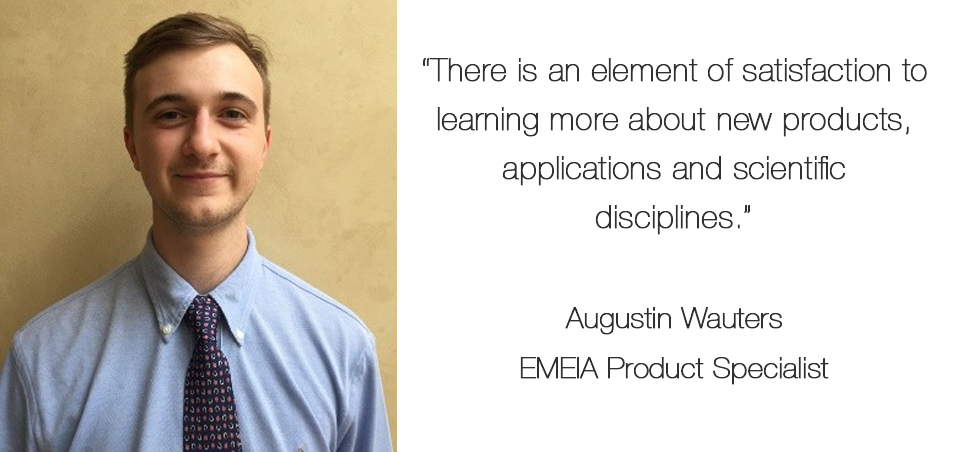 What do you enjoy most about your role?
The most rewarding aspect to any sales role is winning business! That being said, there is an element of satisfaction to learning more about new products, applications and scientific disciplines. So, the personal development is enjoyable as well.
It's worth noting that our customers are very pleasant. Researchers tend to be understanding and polite even under stressful circumstances, so they are definitely another great aspect to the job.
How has your role developed during your working career/while working at Scientifica?
There are some differences between my previous role and my current one here at Scientifica. These changes are predominantly to do with responsibilities and priorities. At Scientifica, there is plenty of support for the sales teams, which means that our focus can stay true to winning business.
How has your way of working changed this year?
Curiously, the role has not changed too much. As a travelling sales representative, we previously spent a fair portion of our time working from home. So before the lockdown, I had already become comfortable working at my home office set-up.
In the past though, this working from home time was arranged between sales trips, which have not been possible all year. Therefore, the lack of physical sales trips has been the main difference this year.
What lessons have you learnt since working remotely?
Working from home can be quite time efficient, due to negating the time lost each week travelling for sales trips. The lack of commuting in general also allows us to maintain a better work-life balance.
In terms of missing out on the in-person meetings on traditional sales trips, I've actually found video chats an effective substitute. It allows us to still show some personability to our customers, whilst asking the necessary questions for moving the sale forward. That being said, the inability to travel to customer sites can be detrimental, particularly in scenarios when a demo is necessary.
How has your department adapted to the new ways of working?
The sales team generally adapted well to the situation. We were previously accustomed to remote team meetings and continued doing so during lockdown.
Do you think any of the changes will be here to stay?
It has become apparent that a significant portion of the sales and administration roles can be performed entirely remotely. As such, I suspect that there will be fewer requirements for office travel, except when necessary. Though this is not the case for other teams, such as the Installation and Technical Support team, where travel will remain a fundamental part of the job.
What are you looking forward to about returning to more 'normal' ways of working?
I am quite comfortable with the current ways of working in fairness. As mentioned previously, I've found that I am still able fulfil the responsibilities of my role whilst working from home. That being said, there are some key targets in my territories that will need visiting once travel is permitted. I very much look forward to visiting the Neurocampus at Bordeaux and Hebrew University of Jerusalem. A final point is that we did not manage to schedule hands-on product training before lockdown, I am looking forward to finally seeing a HyperScope in real life!
Take a look at our other Career Insights case studies
There are more to come over the next few weeks!
Find out about Scientifica's latest product releases, company news, and developments through a range of news articles, customer interviews and product demonstration videos.