Scientifica Career Insights: Alex Murray, Head of Engineering and R&D
---
Alex explains that a rewarding aspect of his role is the development of new tools for the research community. He shares how he has progressed through different roles and departments during his time at Scientifica, and shares the success of his team successfully collaborating while working remotely.
1. Can you describe a normal day at work prior to the Covid-19 pandemic?
The nature of Engineering and R&D means that there is really no such thing as a normal day; we face new and exciting challenges all the time, presented by the projects we're working on as well as issues arising in the field or from within the wider company. Our team is responsible for new product development, assisting our technical support team with any cases needing additional expertise, supporting our production department, and introducing quality improvements to current products. A normal day sees me holding project meetings where we discuss progress on new products, approving and processing drawing change requests for current products, communicating with suppliers, collaborators and customers, working on new project proposals, product documentation and producing reports to stakeholders on current project progress.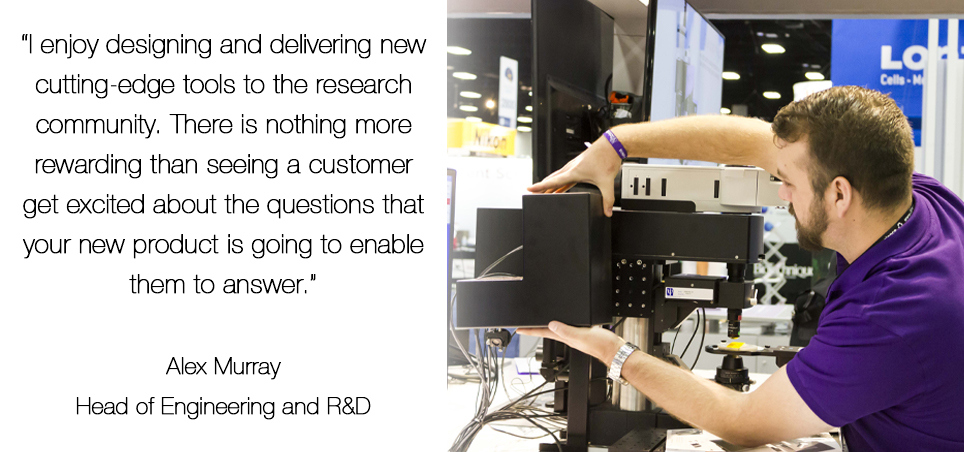 2. What do you enjoy most about your role?
I enjoy designing and delivering new cutting-edge tools to the research community. There is nothing more rewarding than seeing a customer get excited about the questions that your new product is going to enable them to answer.
3. How has your role developed during your working career/while working at Scientifica?
I've had a very interesting journey with Scientifica so far. I joined at a point where the company was about half as large as it is now. Originally, I worked in our international sales team as the product specialist for France, Belgium and the Netherlands, carrying out regular sales and installation trips around Europe. With the introduction of our new multiphoton product line, I moved over to a specialist team dedicated to worldwide sales, support and installation of our new advanced imaging systems. After several years of selling, supporting and installing our products I moved into our Engineering department as a Systems Engineer where I learnt about new product development, mechanical engineering and software engineering. By this point our installation base for advanced imaging systems had grown dramatically and I established a technical support team dedicated to the support of our advanced imaging systems. After seeing the team grow, I was promoted to Engineering Manager and then shortly after to Head of Engineering and R&D.
4. How has your way of working changed this year?
Not as dramatically as I feared would be the case at the start of the global lockdowns. Previously the entire team was office based, allowing me to speak to anyone in my team, face to face, whenever required. Now, the entire team is working remotely and only visiting the office to complete testing or assembly tasks that cannot otherwise be carried out at home. Luckily, the development team is well set up to work from home: our IT systems allow us to access the required development software and files, so work on projects can continue even during the tightest of quarantine measures. Video conferencing and screen sharing technology means we can continue with activities such as project meetings and design reviews as if we were all sat in the same room, and collaborative editing tools mean we can more easily work on documentation together. All in all, communication has become more important as we are now lacking those spontaneous discussions that occurred in the office, but other than that, the only thing that has changed is where we're sitting.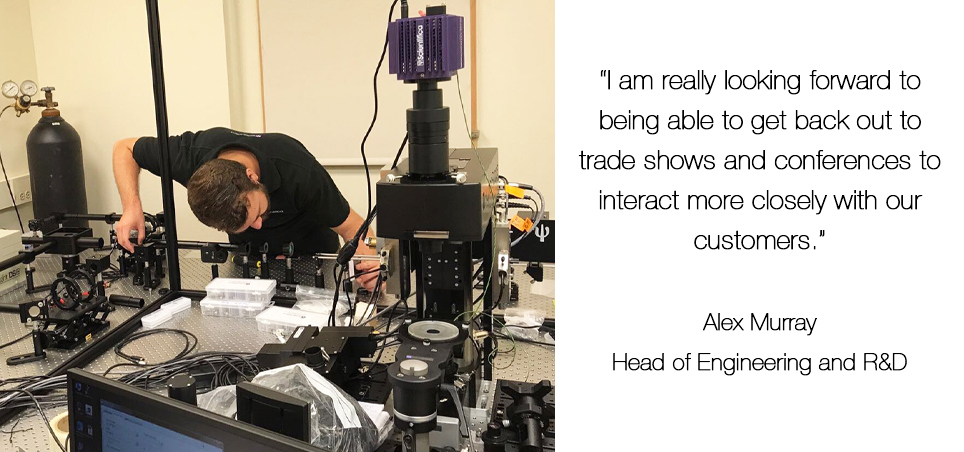 5. What lessons have you learnt since working remotely?
Organisation, communication and trust are key in any team, but this becomes more apparent when working remotely. As a result of working from home, we have become more organised and communicate more clearly about what needs to be done and by when. Deadlines need to be self-managed as the daily in-office reminders aren't there anymore. I've learnt that I don't need to be checking in on my team as frequently as I was when we were all in the same room. Instead, if the plan is clear and has been communicated well, I can trust them to deliver.
6. How has your department adapted to the new ways of working?
My department has adapted well to new ways of working. We have replaced all of our normal team, project and 1:1 meetings with Microsoft Teams meetings. Our IT systems allow us to easily access all of the CAD data and other technology required to carry out day to day work from home, and by migrating most of our WIP documentation to SharePoint or other collaborative editing suites, we have been easily able to collaborate with other departments. Because the majority of us have been able to make the transition to working from home, it means we are able to maintain a safe environment in the lab and testing space for when tasks do need to be carried out on site.
7. Do you think any of the changes will be here to stay?
I believe that some of the changes will be here to stay. Hopefully we will have a virus and quarantine-free world soon, but during this time we've shown that it is entirely possible to remain productive and deliver planned work while working from home. I think a lot of the remote management and work from home stigmas have been removed and we will be more open to flexible working requests for working from home as we move forward.
8. What are you looking forward to about returning to more 'normal' ways of working? E.g. visiting the office, labs, conferences
I'm looking forward to a few things when everything gets back to normal. Despite everyone carrying on well at home, I do miss the face-to-face interaction with the team and the ability to just pop over to their desk and see how they are getting on. I also miss the spontaneous interactions you get within the R&D team when everyone can hear each other's conversations. In addition to the bits around the office, I am really looking forward to being able to get back out to trade shows and conferences to interact more closely with our customers.
Take a look at our other Career Insights case studies
There are more to come over the next few weeks!
Find out about Scientifica's latest product releases, company news, and developments through a range of news articles, customer interviews and product demonstration videos.