Scientifica's FLIM Upgrade kit is now available, enabling simultaneous fluorescence intensity and fluorescence lifetime imaging. Find out more here: https://www.scientifica.uk.com/products/scientifica-flim-upgrade-kit

"I don't feel like I have left science because I am still contributing to the science community", Sonia Cavaliere
---
After completing her studies in Italy, Sweden and the UK, Sonia decided to look for an industry role that uses her research experience. Here, she shares how and why she began working at Scientifica, and how she has progressed from Customer Support Associate to UK Sales Manager.
My journey in academia
I completed both my bachelor's degree in Biology and master's degree in Biology in Italy. During my master's I spent six months studying in Sweden as part of the Erasmus Program.
After completing my studies in Italy, I decided that I wanted a new challenge. I moved from Italy to the UK, where I started a PhD in Bristol. I was the first one in the research group, which worked on KCNQ channels in Drosophila. I was on my own with just my supervisor for about a year, and during this time I taught myself electrophysiology, with help from a neighbouring lab who shared their electrophysiology rig with me.
I loved the research I did during my PhD. I did a lot of patch clamping, behaviour analysis, genetic modifications and sequencing. I had five papers published and, although it was hard work, I really enjoyed it.
Why I decided to leave academia
After completing my PhD, I was looking for a postdoc position. However, I then questioned whether I wanted to continue in academia. I found that there was a lot of competition for positions and grants, which meant moving from one place to another every few years. This doesn't always work well with your personal life.
Furthermore, I love research, but my research was very specific. I was looking at one ion channel in one brain region of one species of animal, which wasn't allowing me to see the bigger picture of science. I also wanted to have a job where I could interact with people from different backgrounds and science applications.
How I made the move to industry
I loved reading papers and articles about new research developments, and still do. I wanted to still be involved in research, but work on the other side of the bench.
I knew about Scientifica through a colleague who used PatchStar micromanipulators during their PhD, and then worked at Scientifica. Once I finished my PhD, Scientifica were looking for someone with patch clamp experience. I applied for the role and began working as a Customer Support Associate.
How I progressed in industry
I quickly progressed to Product Specialist, where I was first responsible for Southern Europe territories, then Scandinavian territories and distributors.
After returning from maternity leave, my role changed to a UK-based Product Specialist, as I couldn't travel as much due to family commitments. My professional life was still important to me; I found the perfect combination of working part-time and spending time with my children. I am really happy that Scientifica gave me the opportunity to still be a professional woman in the science industry who is also able to spend time with my family.
After one year of working as a Product Specialist in the UK, I was offered the position of UK Sales Manager. I have been in this role for two years now and really enjoy it. It is great to interact with members of the team and share my skills, knowledge and experience.
I enjoy my role because I am helping researchers to obtain results and optimise their research. I don't feel like I have left science because I am still contributing to the science community.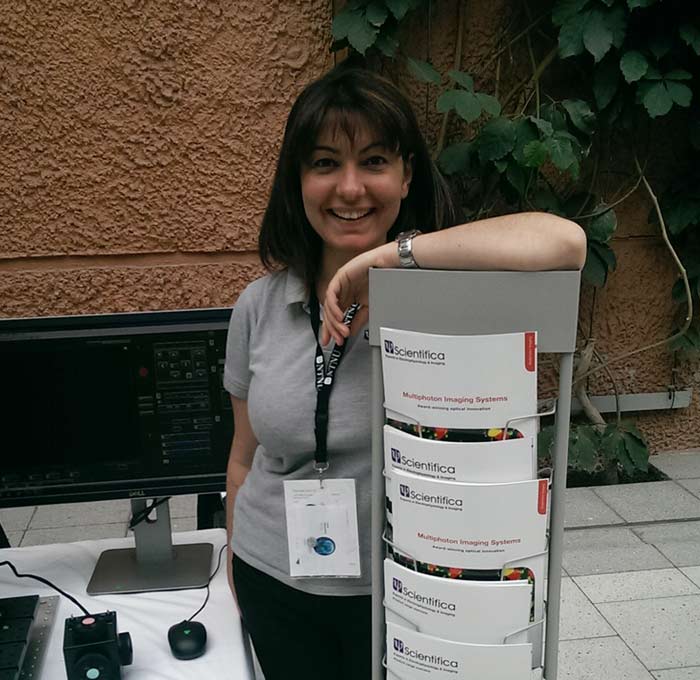 My advice
If you are also unsure whether to pursue a career in academia after your PhD, I would strongly recommend looking at the options available to you. There are many careers where you can still be a part of the scientific community and contribute to research. Your scientific experience and technical knowledge is invaluable and, most importantly, you can still go back to academia if a job in industry isn't for you.
If you are interested in working for Scientifica, take a look at our latest openings and find out how you can send us your CV for consideration when a relevant role becomes available.
Find out about Scientifica's latest product releases, company news, and developments through a range of news articles, customer interviews and product demonstration videos.