Take a look at our Neurowire blog for #LabHacks guides to help you with a variety of neuroscience techniques.
29/11/2016
Scientifica is immensely proud to have won the Chamber Business Awards Business of the Year for 2016.
During the evening ceremony in November 2016, Scientifica also won the Export Business of the Year Award sponsored by DHL, making us eligible for the overall award.
Keith Watson, Scientifica's Managing Director, said:
"We are all really pleased to be awarded Export Business of the Year and also Business of the Year. It is a vindication of the hard work and commitment put in by all our staff around the World to design, manufacture, sell, and support our advanced imaging systems and micromanipulators to the neuroscience research community. It is a privilege to be working with some of the World's top scientists, and to be able to support their research, and we are very happy that these awards recognise the success of Scientifica in this challenging market."
As our prize for being Business of the Year, we have been invited to open the London Stock Exchange on 13 March 2017, the day the Chamber Business Awards 2017 are launched.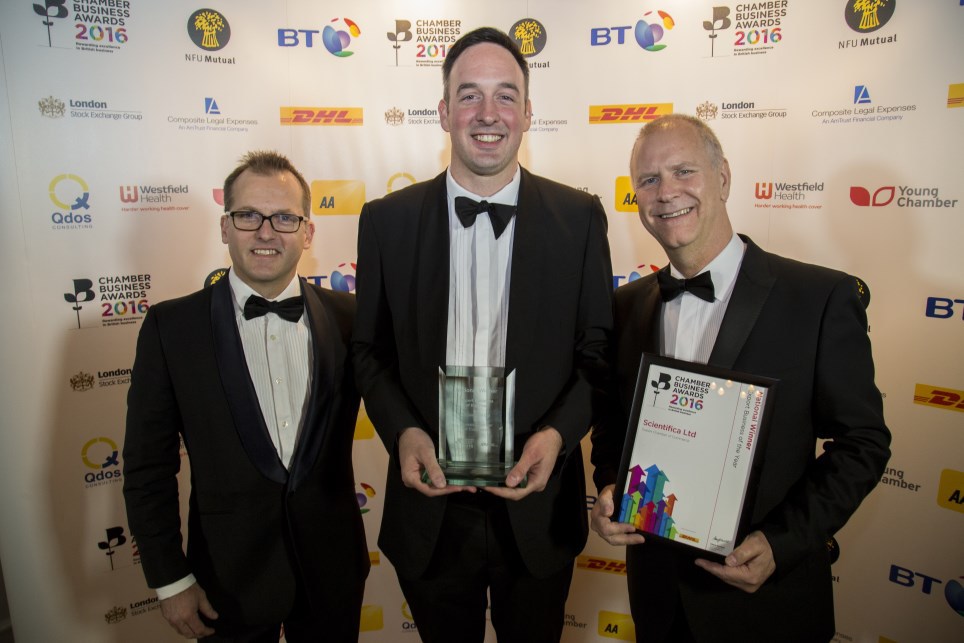 The judges were impressed by Scientifica's product range and their applications to the world of neuroscience research.
We currently export to 44 countries around the world, making up 75% of our sales. These sales have grown four-fold in the last five years.
Businesses from across the country came together at the gala dinner, hosted by TV presenter Gethin Jones, to mark the outstanding achievements of both UK firms and Chambers of Commerce.
In September, Scientifica won the Southern Region Export Business of the Year Award, automatically entering the company into the national export prize.