Join us on booth 2223 at Society for Neuroscience 47th annual meeting from 11-15 November and see our latest electrophysiology, multiphoton imaging and optogenetics equipment http://www.scientifica.uk.com/...
×
Thank you
Your quote request has been received and we will be in touch shortly.
Scientifica PatchVision
PatchVision enhances patch clamp recording procedures by improving image quality and contrast during real time feeds, as well as recordings from tissue slices and cultured cells.
It enables researchers to work more effectively with lower cost microscope cameras with the benefit of digital image enhancement in electrophysiological experiments.

Real time imaging optimisation
Cell identification or patching is easier and clearer. This is achieved by applying a range of real-time software image processing algorithms.
Fluorescence imaging
Allowing them to identify fluorescently labelled cells prior to patching.
Morphometric analysis
Allowing users to evaluate the characteristic dimensions of a single cell or to measure distances between different cells after a simple few clicks.
Faster fourier transform (FFT)
FFT filter removes low and high frequency repetitive noise interference patterns from images.
Running average
Reduces noise and flicker in 'live' image by displaying a running average on screen image from a specified number of frames.
Computer
Only operates on Windows XP and Windows 7 systems.

Testimonials
"Very user friendly and you don't need expensive cameras or illumination source" - Dr Rob Wykes, Institute of Neurology, Department of Clinical Experimental Epilepsy
Downloads
Download the PatchVision brochure for more information.
Downloads
Download the PatchVision brochure for more information.

Worldwide Presence
Scientifica's equipment is used in more than 50 countries worldwide. Some of our customers include; California Institute of Technology, University of Oxford, Stanford University, University of Cambridge, Massachusetts Institute of Technology, Harvard University, Princeton University, Imperial College London, University of Chicago, Johns Hopkins University, Yale University and over 700 more research institutions.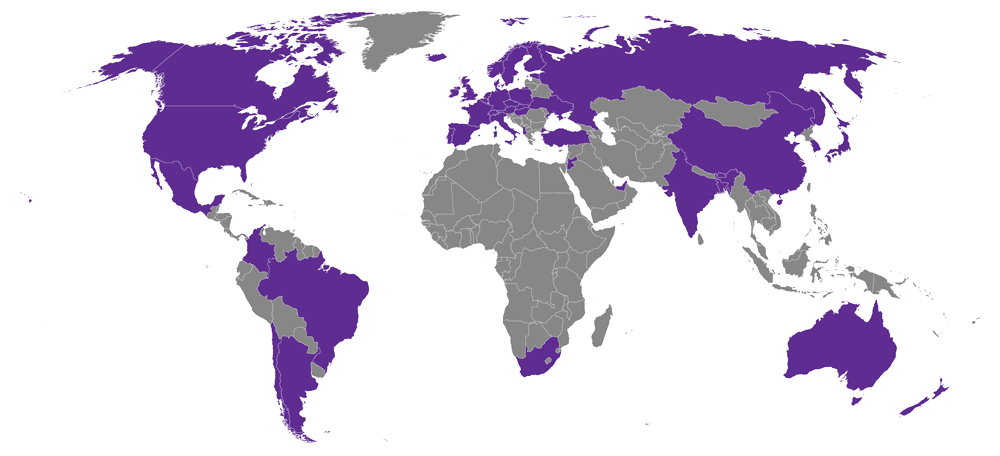 Real time

Real time

All image processing takes place in real time, meaning that you can interactively optimise live image displayed at the normal video rate (25-30 fps) during different stages of patch-clamp experiments
Image and video sequence capture

Image and video sequence capture

Record, store and replay image stills (.bmp) and video (.avi) for offline analysis of your experiment
Simple calibration

Simple calibration

User focuses on a calibration grid (supplied) and clicks on the grid points on the screen to calibrate the live image to allow simple morphometric measurements to be performed
USB-interface

USB-interface

Uses a digital converter to transfer an analogue feed onto a laptop or PC